Let me start off by saying this car is my dad's but i absolutely love it so have decided to write about it. He had a 1st gen supra in his prime years along with a 2nd gen which is how we ended up getting this beauty. When he started talking about the supra and showed me pictures i thought it was the coolest looking car and i was determined to find one and maybe convince him to buy it. I started looking everywhere for one, the classic car websites where they sell pristine ones all the way to a sketchy craigslist ad. I eventually gave up and then my dad showed me a car he saw on co part and he was going to try and get it. 1985 Supra with side collision from Jacksonville Florida. I didn't think we would actually get it... but he surprised me the next day and i lost my mind i was so happy! I think we got the car for under $2k but with body work and new windshield, it came out to about $4k.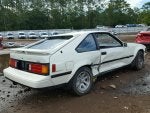 It was a rough car and had an ugly center console armrest (we fixed it).
Another bummer was that the car got a white coat of paint and it was clearly a cheap job. Whoever did it didn't prep the body too well and there are runs in the paint along with the fact they painted over the black trim over the fenders. Hopefully it'll be fixed with time.
The body molding on the side was some aftermarket trim and we are still on the search for OEM if anyone has any.
AC doesn't work at the moment but we actually found the car from before it was in an accident on an auction site where it said there was functioning AC, so our hopes are high we can get it working if we take a look at it.
There is a lot to be done to the car still, i have the headlight whiskers on order from amayama.com and hopefully they arrive, also ordered factory radio brackets so the aftermarket radio will fit right until we get the original radio (currently talking to someone about it!!). I haven't had luck with the Metra radio bracket that supposedly works with the supra, the bezel is too big and the cover with the cigarette lighter and A/C button wont fit right.
Also the Fuel gauge does not work and we found that out the hard way... my dad thought the pump was only filling it up halfway and we ended up spilling some gas on the fender and ground, that was a night to remember haha.
We also need to get all new dashboard vents as ours are broken. I tried JB welding one back together and hopefully I will be able to 3D-scan it and then print it.
We've done rear rotors, brake calipers and pads in the rear. For some reason the steering seems loose thought, the front right tire can be moved with our hands and it needs to be corrected. if anyone has any tips it would be greatly appreciated.
Other than that it is a pretty solid car. Not a lot of rust and its nice to see a smile on my Dads face whenever he gets in the drivers seat. When he gets in the passenger seat and lets me drive its a different story
. I'm still learning stick.
This car needs some TLC but its road worthy and we have a blast with it, will upload more as we progress