Hells yeah 3rd row seat faces the back. What sort of mileage are you getting?
I haven't had it long enough to run a tank of gas through so I'm not really sure. The Duratec is supposed to get the same mileage as the Vulcan, but what that is I don't know.
I researched the daylights of the Taurus and then did just about everything wrong. The car I bought didn't have the 3rd row seat but I went to a fellow parting out a 2000 wagon which had one. I pulled out the 3rd row seat, a factory 6-disc CD Changer, and the 16" aluminum wheels.
The 3rd row seats required the rear seat belts, the 2nd row seat belt shoulder anchors, and the side plastic to clear the seat belts.
I thought the CD Changer would be bad, but I plugged it in and it worked great! It came with 2 magazines as well.
The 1999 came with 15" wheels so in addition to liking the look of the 2000 wheels better, it opens up a slightly better choice of tires.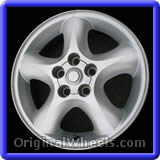 16" x 6" with 215/60-16 size tires.
The air conditioning works REALLY well, unlike those in my Celica Supras.
The standard sound system is surprisingly good.
The 1999 has air bags but it does not have the weight and position sensors that came standard in the 2000 Taurus so that it looks like it will be possible to install the Recaro LS-C seat that I've had in the basement since I sold my 1978 Capri decades ago. This would cause real problems with the air bag operation if I tried this on a newer car.
There are a multitude of things to do. The paint needs a good cut polish, the oval headlight covers are really UV fogged so I need to either polish them or replace them, the fuel tank gauge shows half full when actually filled up, and a multitude of other smaller things.
I've got to change all the fluids, spark plugs and wires which is a real hassle because the rear bank is covered by the intake manifold. I'll probably change the accessory serpentine belt and tensioner.
Let the games begin!