well im fairly new to this site, ive been lurking here longer then any supra site on the web.
and i have build thread's else were but i never started one here. i for a long time never owned a mkii, but dreamed of purchasing one and putting a 7mgte into it ever since i begain my mkiii turbo builds.
i will just like to make this clear now, i will be using this car for track days, drifting. and drag racing. i will try to make good judgement keeping this car fun in all area's
picture's of the car go here! ~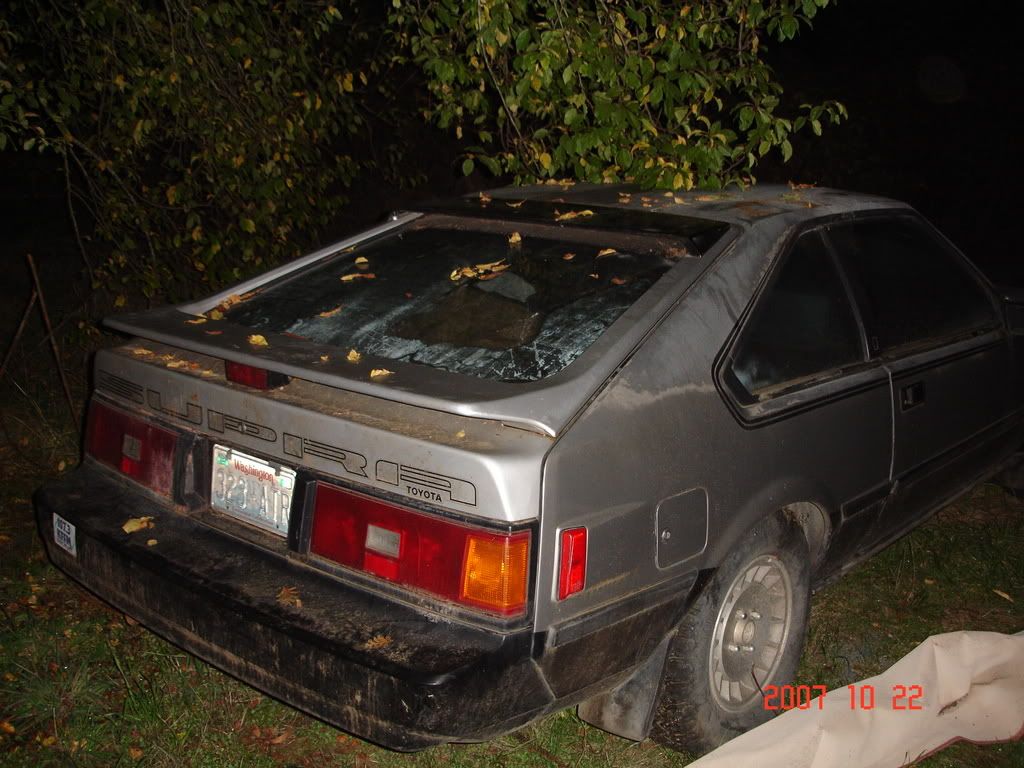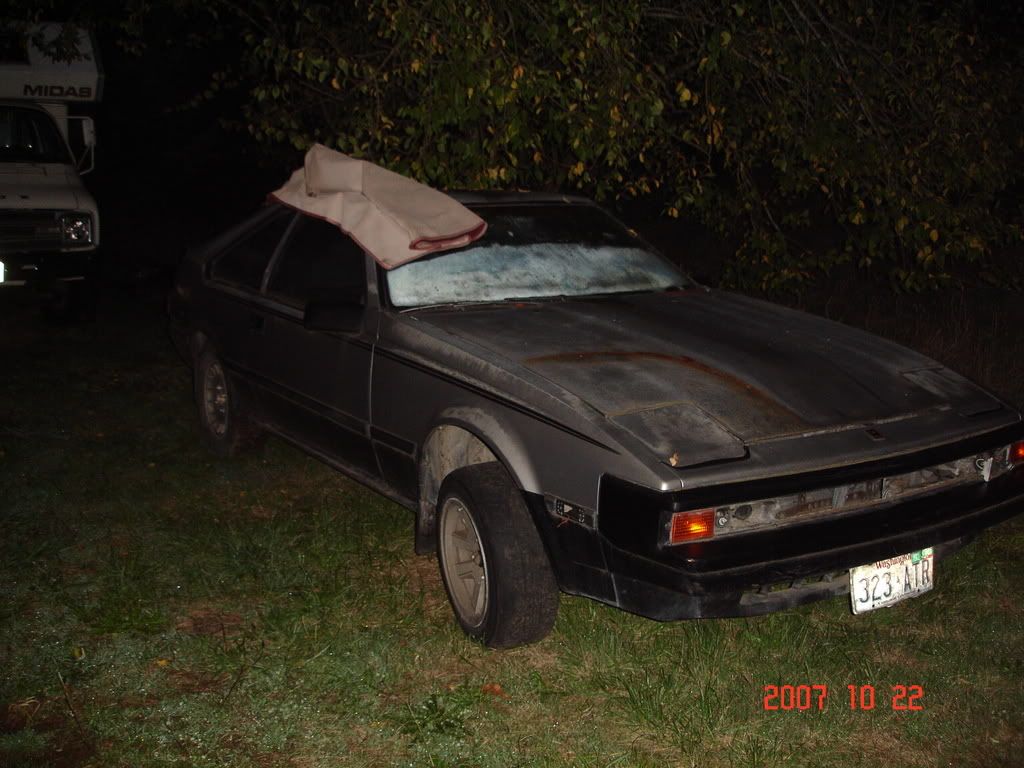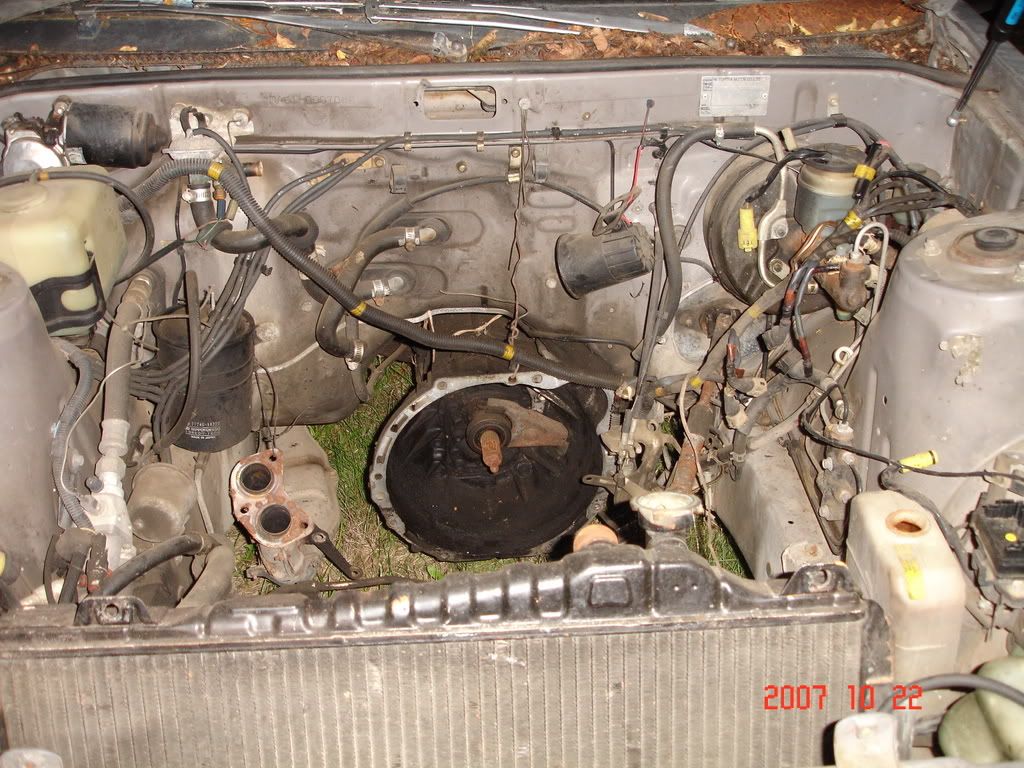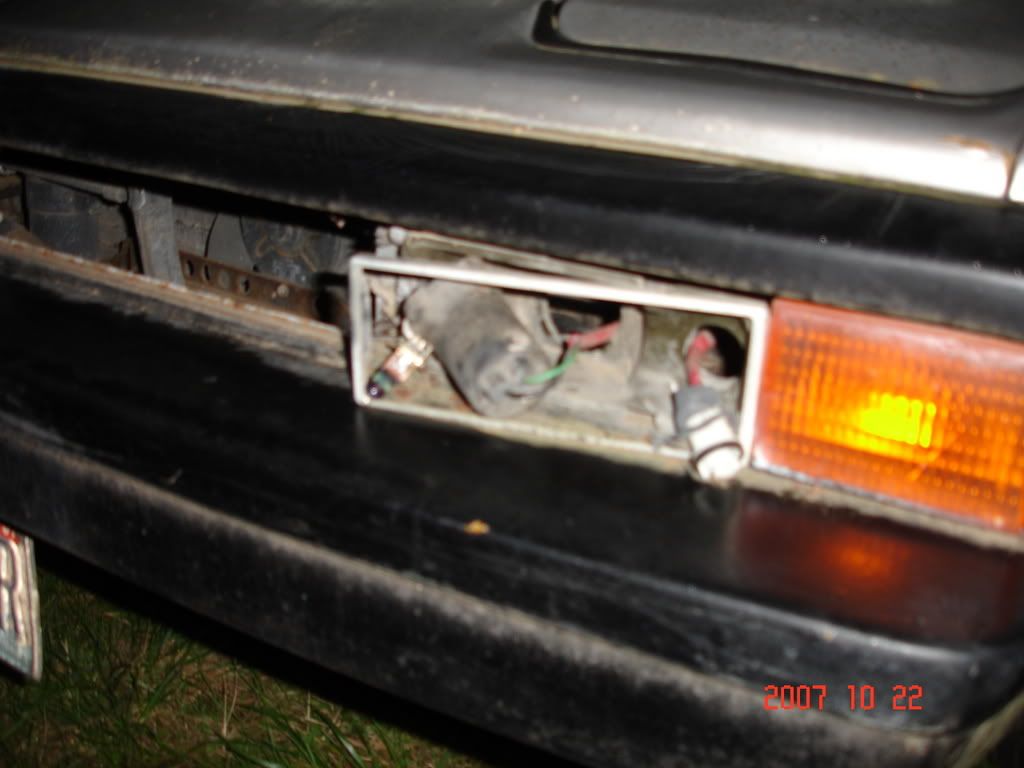 well atleast the car is straight with no body damage!
~ i'll post them in a day or soo i have to find the camera to snap recent photo's of every thing else any ways!
alright car history:
the car was given to me through trade to one of my friends. it was a lost title but had a signed release of intrest forum and also had a signed washington sate vaule sheet. stating the car needed repair and was not worth blue book vaule.
i traded my friend a turbo in good boosting condition but not the best of housings. didn't appear to leak oil either. he also had a good core of mine and one night both turbos were stolen out of his wife's car.
after having this two tone supra parked in my brothers side yard for almost a year i finaly get around to putting it into my name i was able to liecense the car and register the car in my name just fine, and also got new plates and tabs for the car and it's emmissions exempt!
from what i know about the car from digging around so far is im technicly the third owner.
the person who's the car was registered in purchased this car in 1987 and just sold it to my friend along with another 82l type sold mine as a parts car, or maybe included it? my friend never put it in his name either!
my buddy says my car sat in a barn for over 8 years, almost 9 to be on the spot, it hadn't been registered since 98 when the tags expired.
i haven't done a car fax but will do one soon,
but i belive the first owner owned the car for 5 years sold it to the man that my friend got it from so it's not low milage but atleast not alot of people owned the car!
whats wrong with the car!
the car needs a motor, my friend pulled the motor out from the car to profit latter down the road, since it was the 5m i didn't care. unfortunetly he lost the 5m engine brackets and mounts, and im doing my best to pick up the set i want
he left the w58 in the car . thanks!
the car also needs a new dash, needs the seats cleaned, some dirt and greese possibly got on my baby blue cloth passenger seat.
whats the best way to clean the seat's? i'll pull them all out some time and finish all the inteiror aswell!
the car will recive a stock 7mgte with hks down pipe and stock intercooler and pipes, i'll run t-bolts where i can since i have a few spares, im also getting rid of the 3k pipe and any plastic piping in the ic pipes.
i belive i will be running the stock cat back at the moment, but the car will be reciving a full 3.5 inch exhaust and 2.5/3 inch hard pipes when im done.
as for when i get my fordge motor finished and im able to pay to have it tuned i'll be dropping in my 7mgte out of my mkiii that was running 13.5's at 12psi ,
although it still is possible i might put my forgded motor into this car and make one very sick sleeper.
till then i will post pictures of my 7mgte build to show whats instore for this little mkii supra that could !
well this is the flywheel that i cant use unless i feel like re-using the friction surface for it,
it's for a r154, it's a fidanza and they changed they bolt pattern, i heard clutch masters may work for it, i'll have to order one and see, for now it sit's but may possibly go into my mkii when i do this swap, i have a good r154 for my mkii sittin in my garage.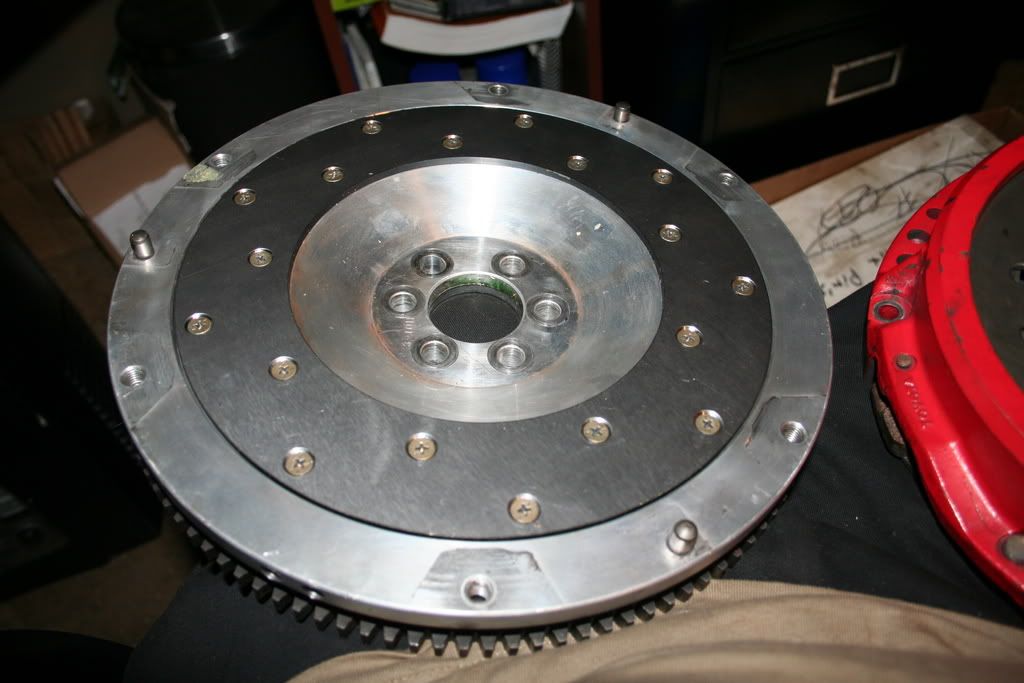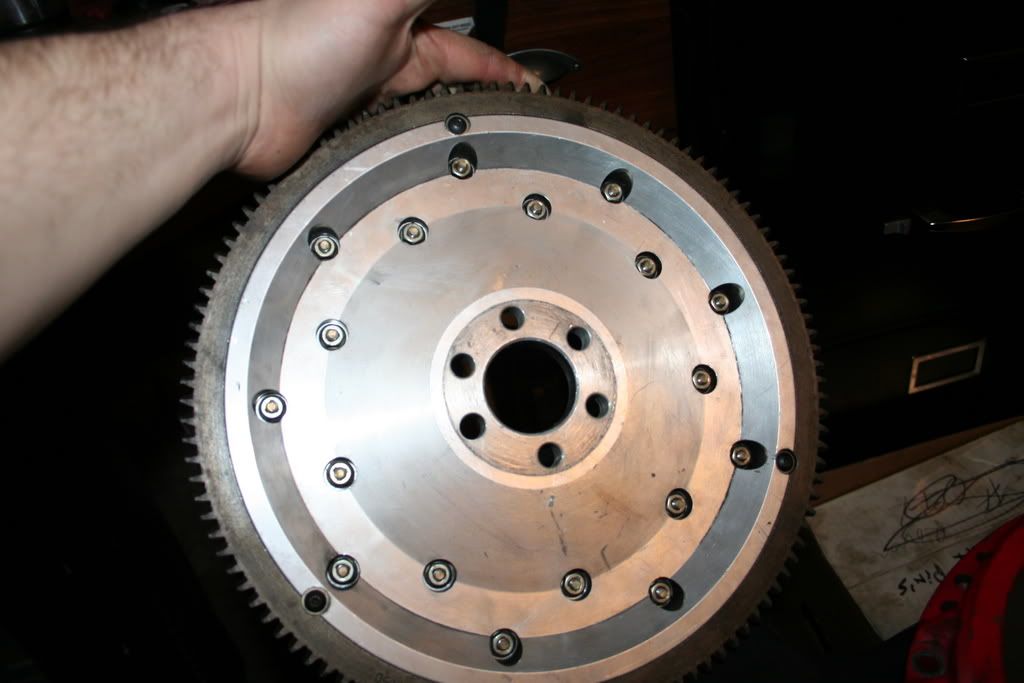 well since im talking about lighting stuff up.
i jumped on my chance to save a few gram's and get a little bit of adjustment out of my cams! i went with a set of titan 7m cam gears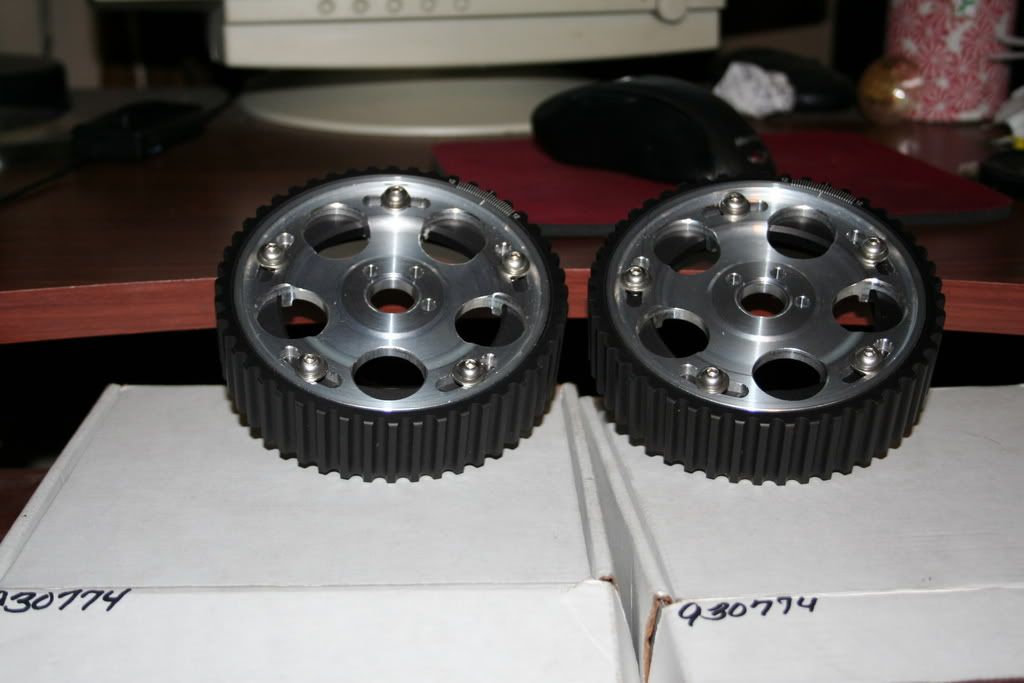 well in preperation knowing i was going to put a 7m into a mkii i purchased a front sump pan, and i also found one with a oil cooler drain.
i also picked up this pump from the same person, unfortunitly i was unable to figure out how this pump fit, and had to purchase a 5m pump from my friend with my car's twin.
well since im near the bottom end , i'll talk about what i have done here.
i have had the crank balenced, then balenced again by another shop. unfortunitly it made noise that may not have been bottom end noise and i pulled it apart again, swaped to manual and put new slugs in her and also balenced the crank again, i also had the crank knife edged and i was able to remove 1.5lbs with a single edge cut, and a radius smoothed and tightend.
knife egde pictures.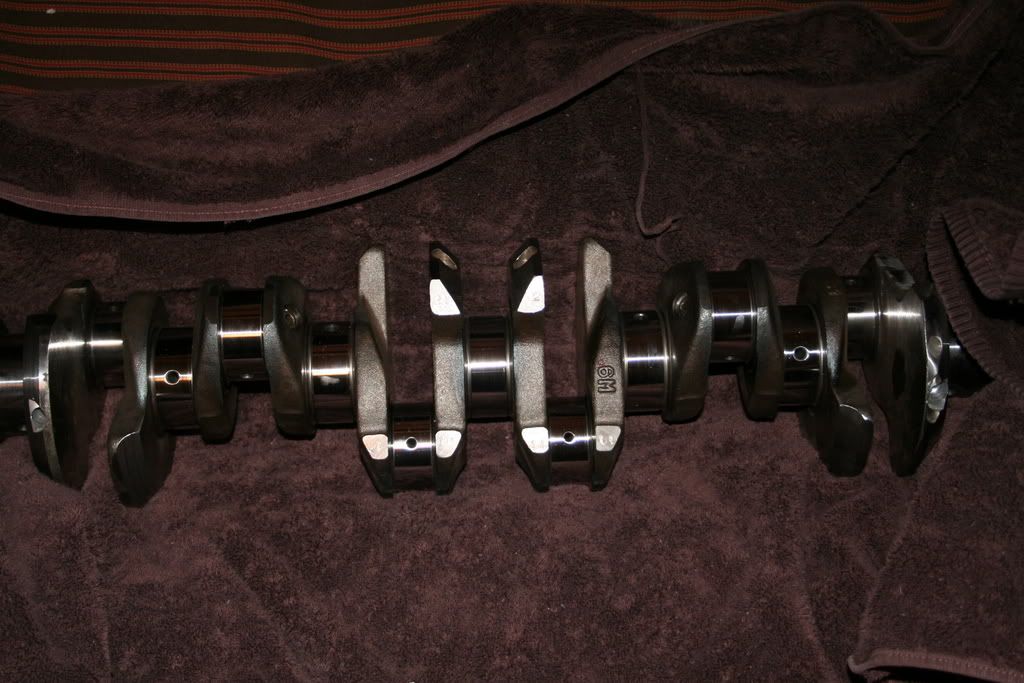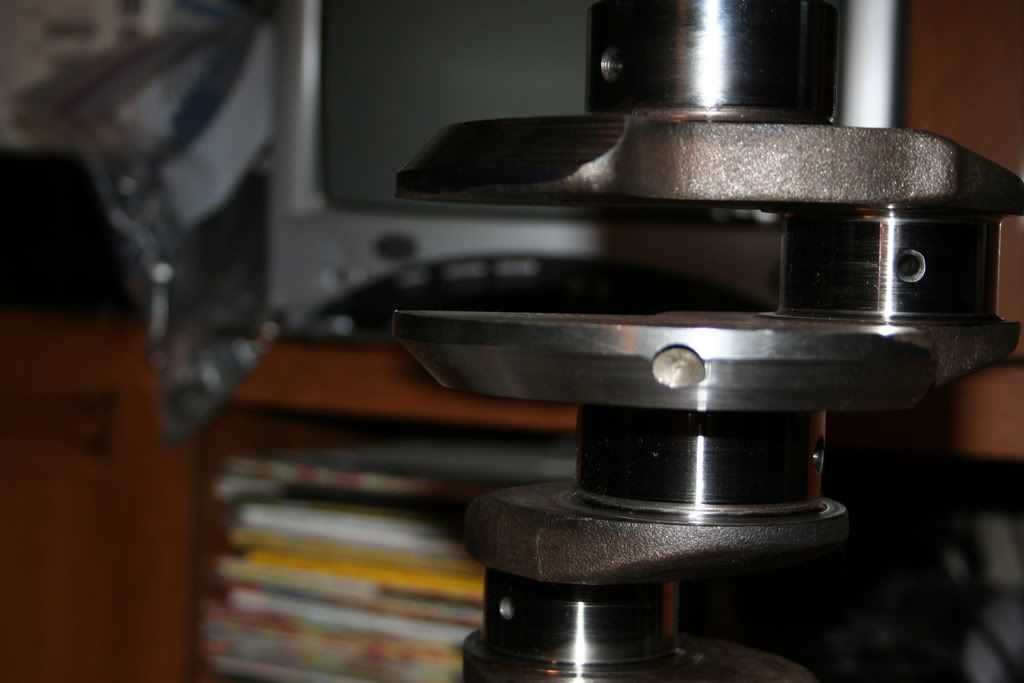 picture of the radius :
now of course with this much attention to the crank, i wasn't done with the bottom end yet,
i had the crank clean and the passages cleaned aswell, and to keep this free spinning sob to the block im keeping it in check with arp main studs
as far as rod's go i couldn't leave them alone either.
picture before the crank was knife edged and above work was done but show's arp's off nicely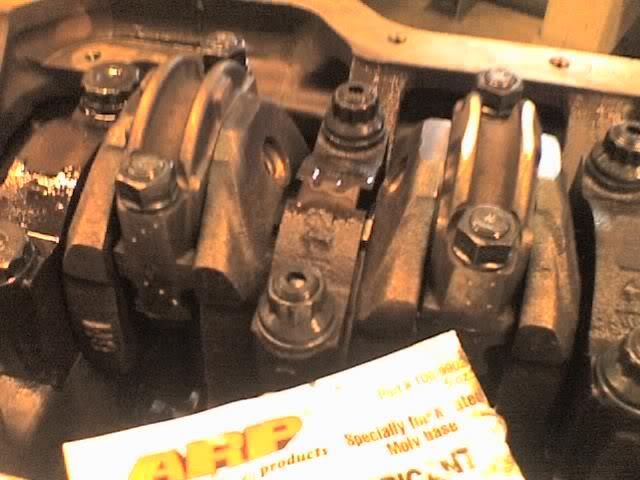 i hammered in some arp rod bolts and ended up knockin out a bearing in 600 miles so i had the rod's re-sized and checked for cleanece on both sides and wasn't happy till my machiniest was. but still wasn't done. i had him balence this 3 times along with the crank each time, and the third time i also had him de-stress the rod's and polish them too.
Group pic's :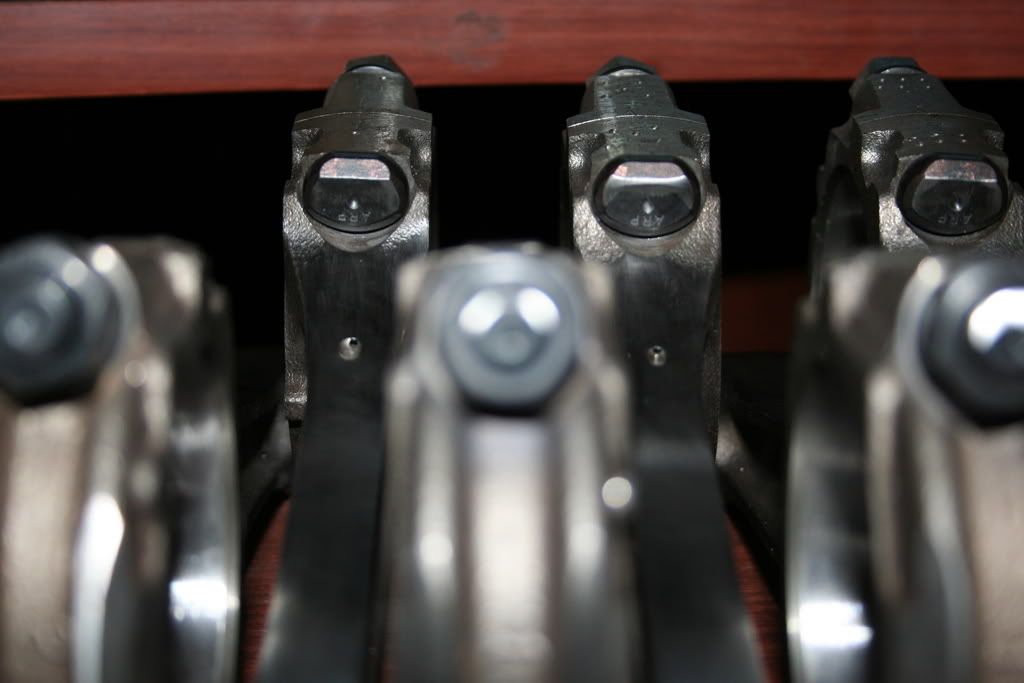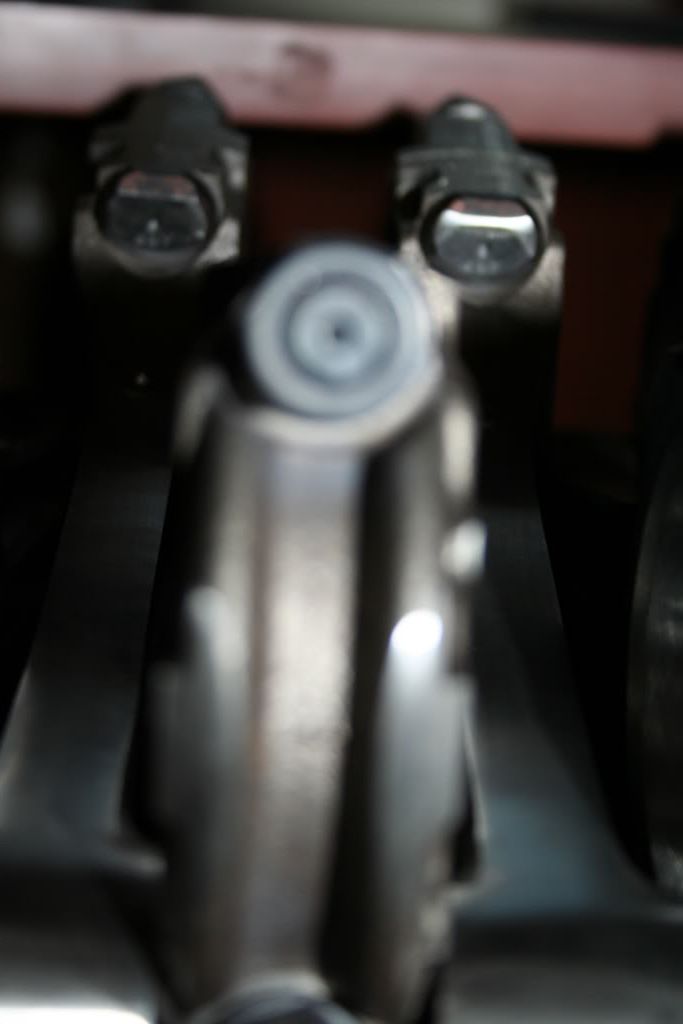 side of one of my rods
another angle
an attempt to show off the arp rod bolts but instead i got a nice picture of a back ground rod.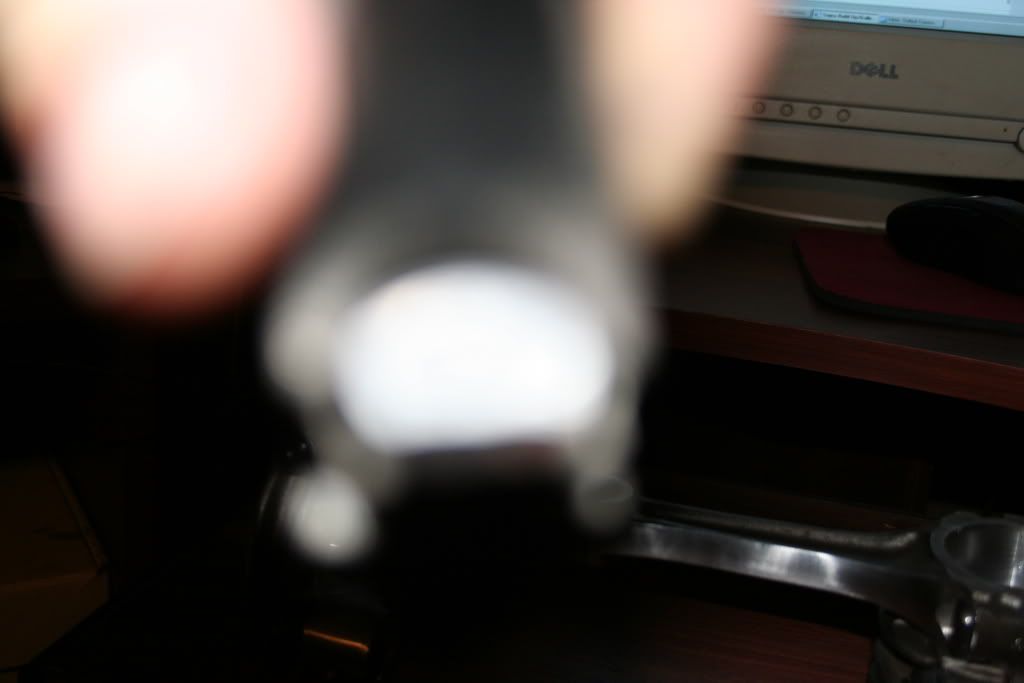 ok ok ok , just a few more of the rod's
well that just about wraps up the bottom end.
as far as the head goes, it's running n/a cams, 3 angle valve grind, replaced 7 guides, and put new seals on , the head was also machined to a 25ra finish. im running n/a valve cover's with relocated coil packs, a titan 2mm mls hg and apr head stud's @ 85ftlbs.
(sorry for the camera phone pic's) some block pics too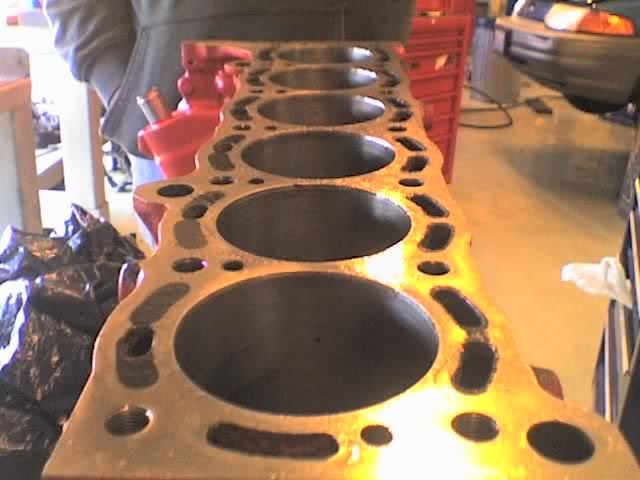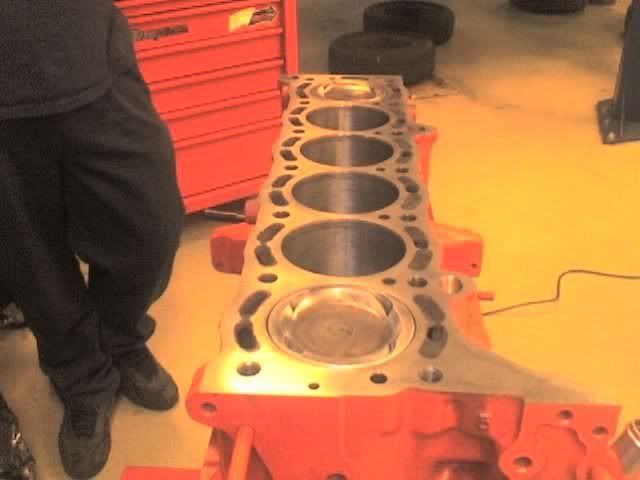 almost finished assembling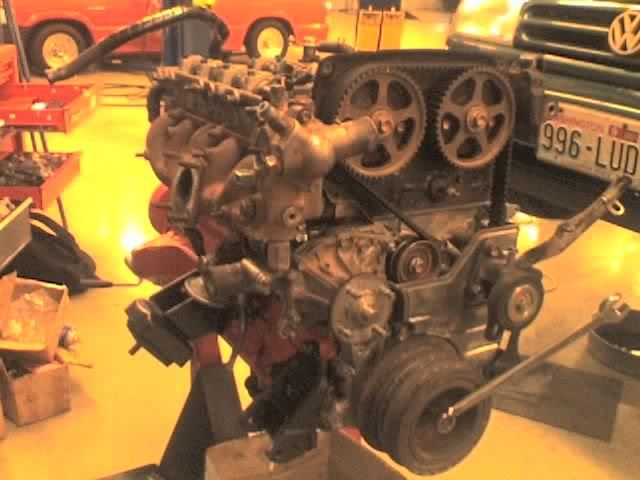 well this should make one hell of a read for most of you tonight or tomorrow,
i'll post more pictures of my supra's in the next day or so.
so you all can watch my progresse on my build!
oh yeah,
when this knife edge engine goes it, it'll be rocking a 57gt ct26 to make full use out of the 3.5 inch exhaust i'll be using,
the car will have working ac, and will be getting paint this summer, i plan to stick close to the origonal silver black combo but makeing better use out of the canvis.
any ways, thanks for staying tuned
james cook~stubz out