ABQMK2's 2JZGTE addiction thread
OK, I swore I wouldnt do this, I tend to keep things to myself or to my closest and trusted forum homies but I figured I'd share a little at a time. These 2JZ builds are popping up like crazy!!! I will update this thread here and there with pics and info. This is gonna be my 600RWHP E85 fueled, AEM V2 tuned toy. If the MK2 chassis doesnt handle it well i will de-tune for 500RWHP and leave it be..Or by a MK4..IDK.
I will have 3 maps.
1 -600rwhp map on E85
2-500rwhp on E85
3- pump gas map to run pump gas through every 3rd tank or so. keeps the system clean
I want an Zeitronix ethanol analizer guage here--->
http://www.zeitronix.com/Products/ECA/ECA.htm
Dont expect this to be an all out "how to" or please dont PM me with this and that on what to do, post it here for others to learn. I really dont have the time or patience for some of the BS people pm us. You all know what i mean.
A close friend of mine named Zack, He is a toyota nut, into AE86's and what not has been helping me along, sort of a personal trainer/motivator..I get lazy, this is a shout out and BIG thanks to Zak..
One more shout out to my bud Eric, u all know him on here as Eric...LOL! He provides beer...sarcasm, morale support, and the best detailing tips for supras!..thx homey.
ok, back on topic..
MODS LIST..will run on E85
There is so much stuff I cant even cover it all, but here is the just of it. The supra will be painted black with in a year or 2 or maybe even a respray..IDK the blue is growing on me. Also a lot of this is still to be installed. I will be installing it all of the next few months…My shop is covered in awesome parts. Yeah baby! If anyone is thinking about, I do have an alarm on the shop and Im armed..LOL!!! Don't even try!
1983 celica supra w/85 front end and 85 tail lights
all tuning will be done by MOTIVA motorsports here in ABQ, home of the hellion mustang.
here--->
http://www.motivaperformance.com/index.html
2JZGTE aristo motor single turbo conversion
custom motor mounts
ARP headstuds
NEW HKS MHG
HKS 264 cams
Unorthodox Adjustable cam gears
USDM H20 pump
Fluidampr dampner
Cut, polished, shaved and tapped water neck
Oil filter relocation kit with braided lines
EMS/Electrical shit
AEM V2
AEM 5 bar sensor for boost
AEM 5 bar map sensor
AEM 5 bar oil pressure sensor
AEM 10 bar pressure sensor on FPR wired to AEM V2 for datalogging
AEM AFR,boost,OP gauges on triple guage pod..on A pillar
Autometer EGT, oil temp, water temp gauges(all red digital)..triple guage pod on dash
Battery relocated to the truck/hatch (summit kit with circuit breaker)
Coil packs completely rewired
Wiring harness modified for AEM EMS V2
Fuel System
Weldon DB2025-A -12 inlet and -10 outlet 1400HP fuel pump
Weldon A2040-281-A-120 fuel injected (up to 120psi) -10 inlet and -8 outlet FPR
Weldon 14000 fuel pump controller..keeps it quiet
-12 custom draw tube in tank to -12 into Aeromotive billet fuel filter 100 micron
-10 out of fuel pump to Aeromotive billet fuel filter 40 micron
-10 russel braided SS fuel line to Y block
2 -8 feed lines to rail(can go to -10 if needed)
Titan dual feed fuel rail -8 both ends
-8 return line to Weldon FPR
-8 russel braided SS line to tank
Inject Dynamics 1000cc fuel injectors
Over $1000 in russel and fragola fittings
Fuel tank is customized
IC and cooling
24x12x3 aluminum IC
3" aluminum IC pipes custom
siliconeintakes.com couplers and clamps
polished griffin radiator with griffin Rad cap
ADM (adrenaline motorsports RIP)dual electric fan kit with temp sensor and fan housing...nice piece here too!
Turbo
ITS 67mm DBB w/.68 AR housing 3" Vband, T4 tapped for EGT fresh rebuild by Justin at comp turbo..0 miles
Turbo blanket..its bitchen cool
Raptor Racing 2JZGTE manifold w/44mm WG flange..thanks George!!
OEM mani gaskets
TIAL 44mm WG 13psi spring
toyota T100 heat shield modded.
Custom DP 3" with WG dump pipe routed back in DP
mandrel bends to magna flow muffler w/test pipe. Dual bungs.
Synapse synchronic BOV
Arizona performance oil return to pan fitting..well made piece
Action hose braided lines (local shop)
Polished vacuum manifold for braided vacuum lines with russel AN-4 fittings..still in progress
Suspension
Raptor Racing dobi's front and rear coil springs
Tokico Blues shocks
Addco sway bars front and rear
I need new bushings soon
also waiting for new bolt on coil over kit..then above is history!
Raptor Racing front and rear BBK cross drilled rotors wilwood clalipers and pads
Simmons 17" wheels
Tru-trac rear end with 3:42 gears
Transmission
Before you say anything..I have a freshly built R154 on the bench to replace it…Im gonna test this tranny until it grenades
W58 with JZ bellhousing
Raptor Racing W58 feramic clutch (im going to put this clutch to the test..then go R154)
New OEM seals
NashMan short shifter
ARP flywheel bolts
BillyM kit
Chromes intake manifold and TB
Polished valve covers
TRD oil cap
Custom painted spark plug cover(by me)..matches oem paint
Polished and shaved water neck.
New OEM seals and gaskets.
Polished radiator cover thing in front
Anyways,
this is what you can do with an old Rabid Chimp 7MGTE DP we cut modified and welded for 3 days on this pipe to fit RR 2JZGTE 44MM flanged Mani. Yes Im pretty proud of it..Wrapped in heat wrap, tied in CV boot clamps. Might re-do the clamps to hide the crimps under the pipe
I know the DP looks like it has a crease in it but its just the way this pic looks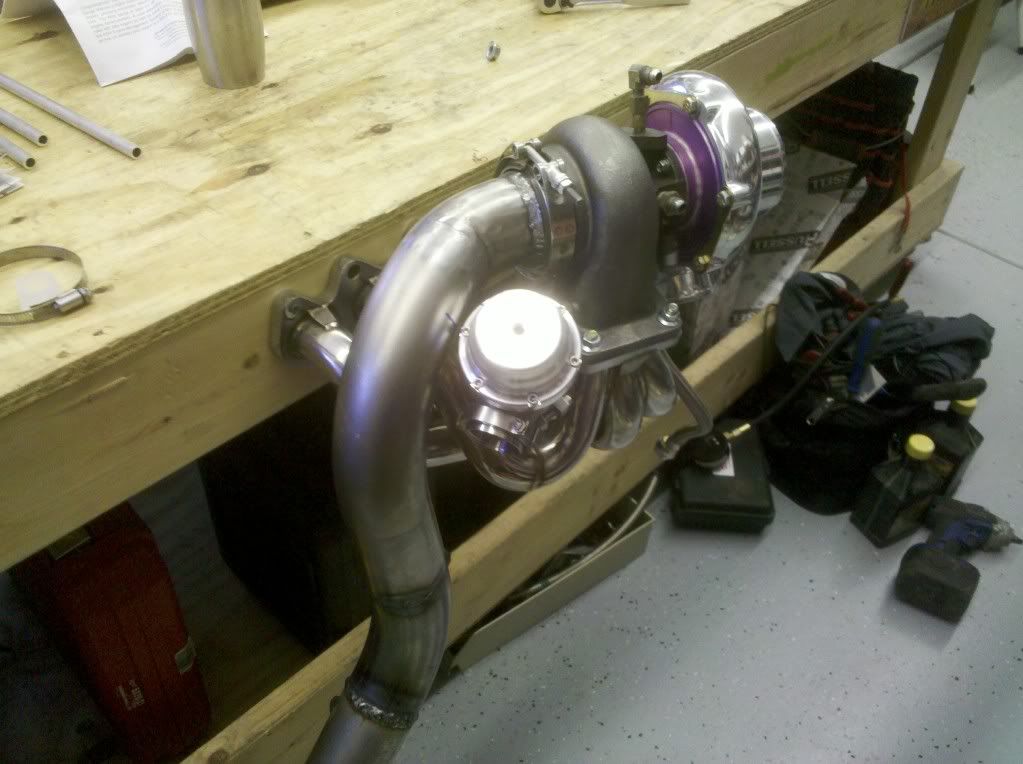 See the booger we had to weld on the side here? I got a little to happy with the grinder and thinned it here...so we welded this booger on to thicken it up and here it is during the Re-grinding smoth process...oops!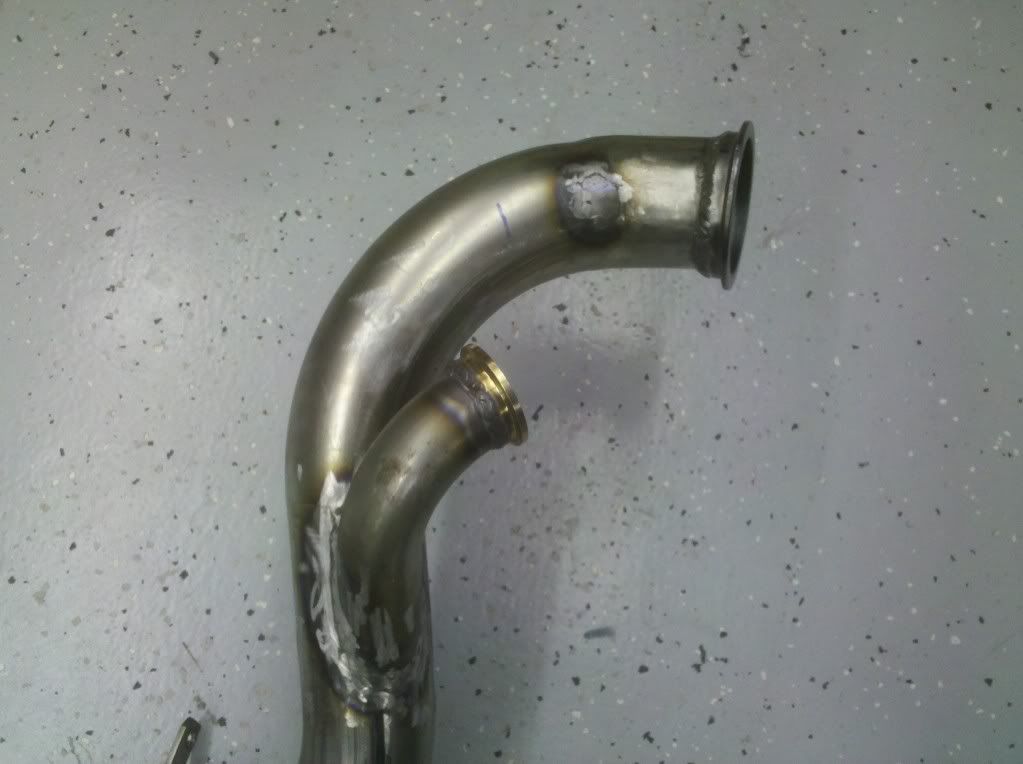 We welded 2 bungs here for the wideband..AEM calls for 36" for the bung for turbo charged vehicles...so that where the 1st on is..MY AEM V2 EMS will use the wideband instead of a O2 sensor, the 2nd bung is for the tuner to tie into for dyno pulls.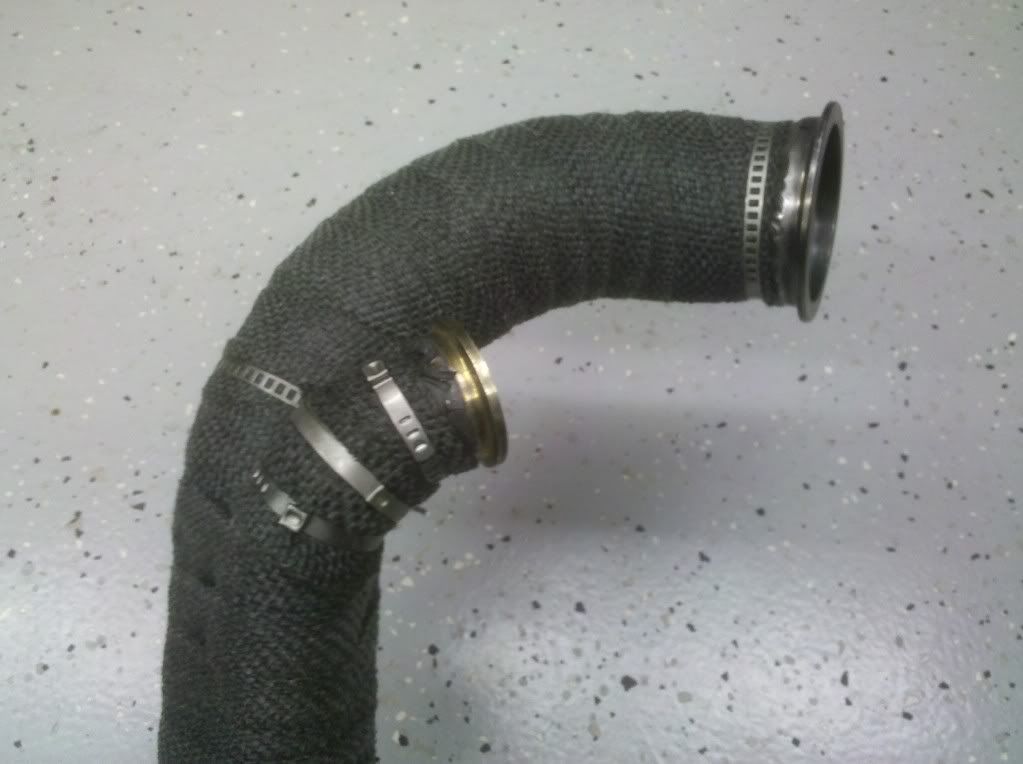 heres a couple engine bay pics...these are old but at least you get a visual.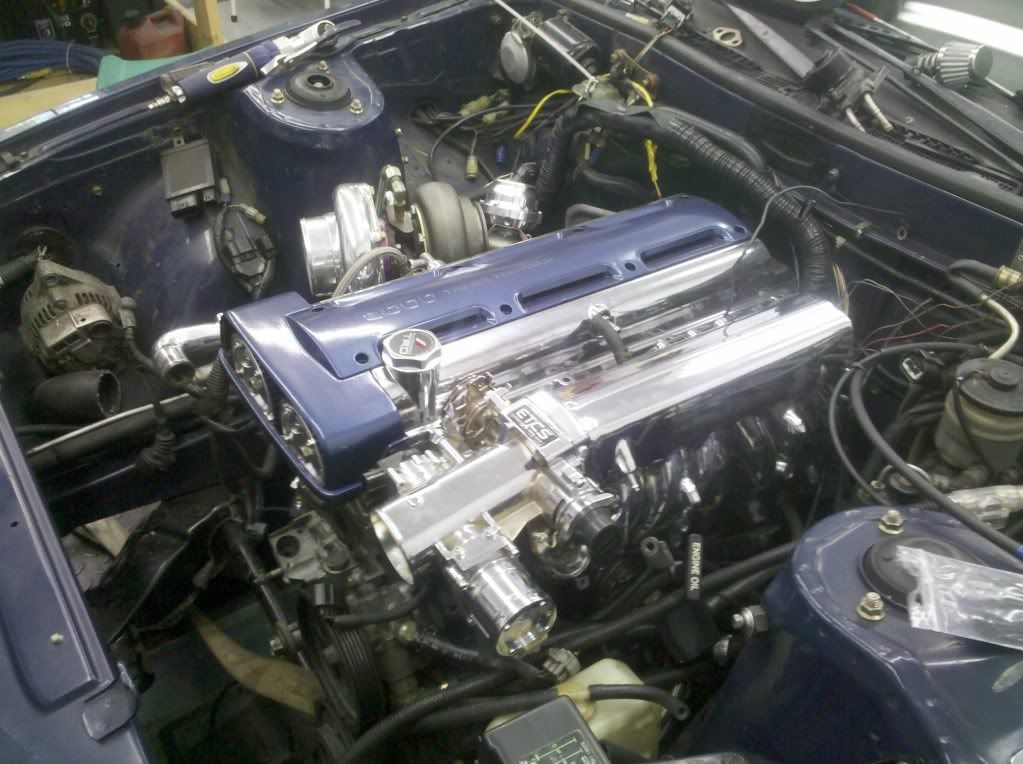 Ok, here is a couple of shots of my Front BBK..i havent installed the rear yet. Im still waiting on the oem spacer from toyota to preoad the bearings properly.
I installed longer wheel studs. the stock ones where to short because i had to install 8mm wheel spacers to clear the brake calipers...My Simmons wheels didnt clear it!!
[email protected]
ME!!! Yup im pissed off about it.(anyone want to buy a set of 17" Simmons wheels?)
so after some careful measuring, i need an extra 7.5 mm. So i found these 8mm wheel spacers to give me the clearance for the calipers.
http://www.ezaccessory.com/4_Lug_5_16_Thick_Spacer_p/601.htm
now that ive added 8mm (spacer induced) the wheel studs were going to be to short so I went to autozone and bought some dorman studs that were $1.99 each. the stock ones were 42mm long. the new ones are 49.5ish mm long. So i only lost .5mm in length. I had to go buy a shop press at harbor freight. its a 12 ton. Cost $130. I used it to press out and in the new studs. The studs will come out with a whack of the hammer pretty easy if you don't have a press. But they wont go in so easy. If you think you can use a lugnut and an impact to pull the new stud through, guess again..not happening.!! I tried..LOL!
If you want the part number for the wheel studs look in the pic..its right there.
Stock stud top
New one bottom
these deep impact socket made perfect pressing spacers thinga ma jigs....see the marks on my hub..thats because I beat a wheel stud in with a sledge hammer and missed a few time..thats when i said ef it..time for a press!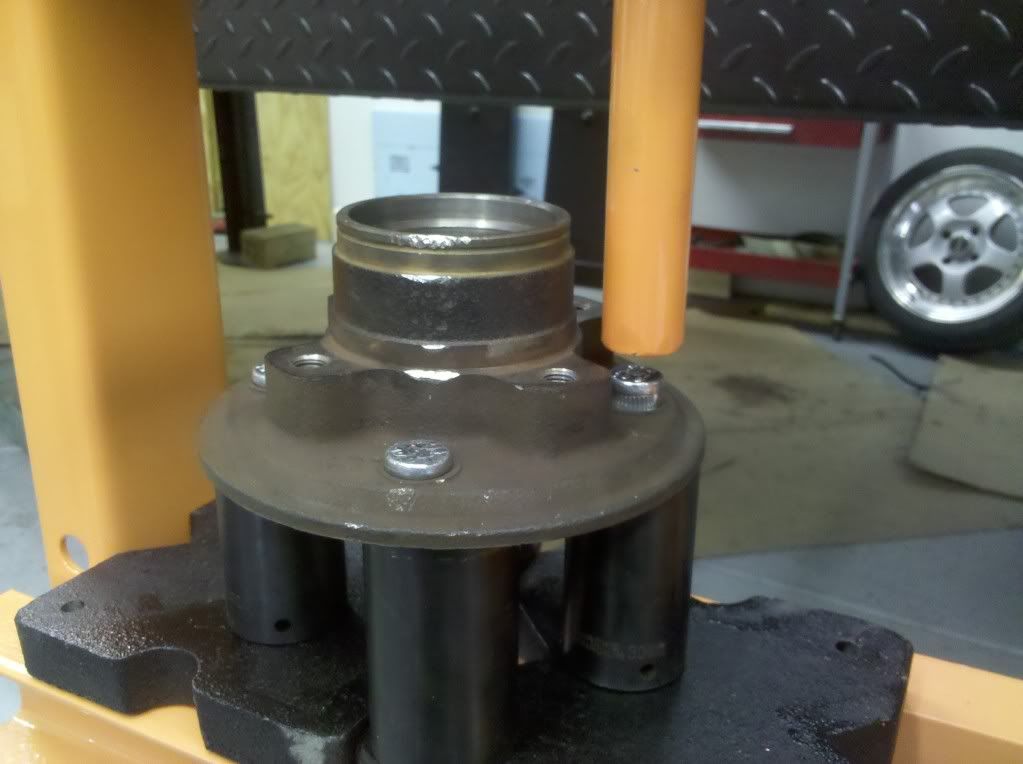 heres a few pics of the front passenger side of my BBK. I bought this kit off a member here (Not Graptor Racing, although its his kit)and it was still brand new never installed in the box! It did not come with directions. I pm'd George at raptor racing for some and he said there aren't any. He did suggest this link to a great write up of the front install. Awesome!
http://www.celicasupra.com/forums/s...and-wheel-bearing-install-Step-by-step-w-pics
If you just have the front to install it should be pretty strait forward. Its obvious which caliper and rotors go where since you only have the pair.You should have some novice mechanical skills to do this though.
If you have both front and rear kit like I did and no instructions and no parts list on which rotor or caliper goes to the front or rear it can get pretty frustrating trying to figure which parts go where. For this reason alone I was pissed off and cussing out George in my mind, even though I didn't buy it from him, there was no parts list. Separating the bolts and shit sucked. I spent hours trying to figure out what went where. So this BBK kit gets a mediocre recommendation from me..to each there own. George, I recommend you put something on you BBK page on which part number is front rotor and rear and which caliper is front and rear and which bolts go where and where the brackets mount etc etc. I realize the thicker rotor goes up front but others may not...like I said this is not a "how to thread"..its my whatever I feel like writing thread…end rant
Now the nice
One more thing. Ive purchased many things from Raptor and all parts are top notch and he ships fast..so don't take the above the wrong way. Raptor Racing is top notch.
You can see his BBK in the pic. His braided line kit. His dobinson springs to. Free advertising for Raptor Racing..LOL!!
Heres a few pics of it on…in case youre wondering. I did clean and re-pack the wheel bearings with mobil one synthetic grease and put a new seals on.