Discussion Starter
•
#1
•
The factory lug nut is a version of the mag/shank lug w/ washer. Thread pitch is 12x1.5 :
Most aftermarket wheels require cone seat lugs. There are a few exceptions that require mag/shank lugs.
Bulge acorn (recommended for standard usage)
Standard acorn: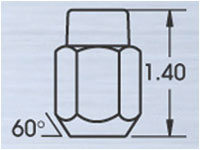 Open ended bulge (recommended for wheels w/ caps that cover the lugs)
Open ended:
Small Diameter/Spline Drive aka tuner lugs (requires special key)
key:
McGard Spline Drive requires a proprietary key:
key:
ET- Lugs (when you need to reach further into the wheel due to spacers /not enough thread):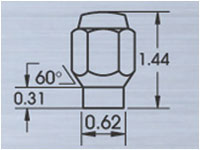 The dimensions doesn't have to be exactly the above. It is to give you a general idea of the proportions. The 60% angle on the seat is the industry standard on aftermarket lugs with the exception of ball seat (VW/Porsche).
- Remember all lugs should make five (5) complete revolutions when attached.
- Do not grease nor lubricate the lug nut nor thread. Clean all oils from lug seat.
- Always install by hand to prevent cross-threading or overtorqueing. If a shop insists on using an airgun to install the lugs NASCAR-style... go to another shop.
- Torque to factory recommended specs (generally 79-85 lb-ft. )
- Always torque using a star or cross pattern.
- Recheck torque after 500-1000 miles.
- Do not overtorque. It will cause rotor warpage among other things.
Regards,
James R