Discussion Starter
•
#1
•
Some of you may remember the thread started to gauge interest in Reproduction Rubber Hatch Glass Seals, we are getting close to have a prototype done and it's really time to seperate the men from the mice to see who has serious interest in this. Just so there is no confusion this is NOT for the 85+ Spoiler Trim...I will be posting a separate group buy on this VERY soon. It's also NOT for the hatch to body seal...this is for: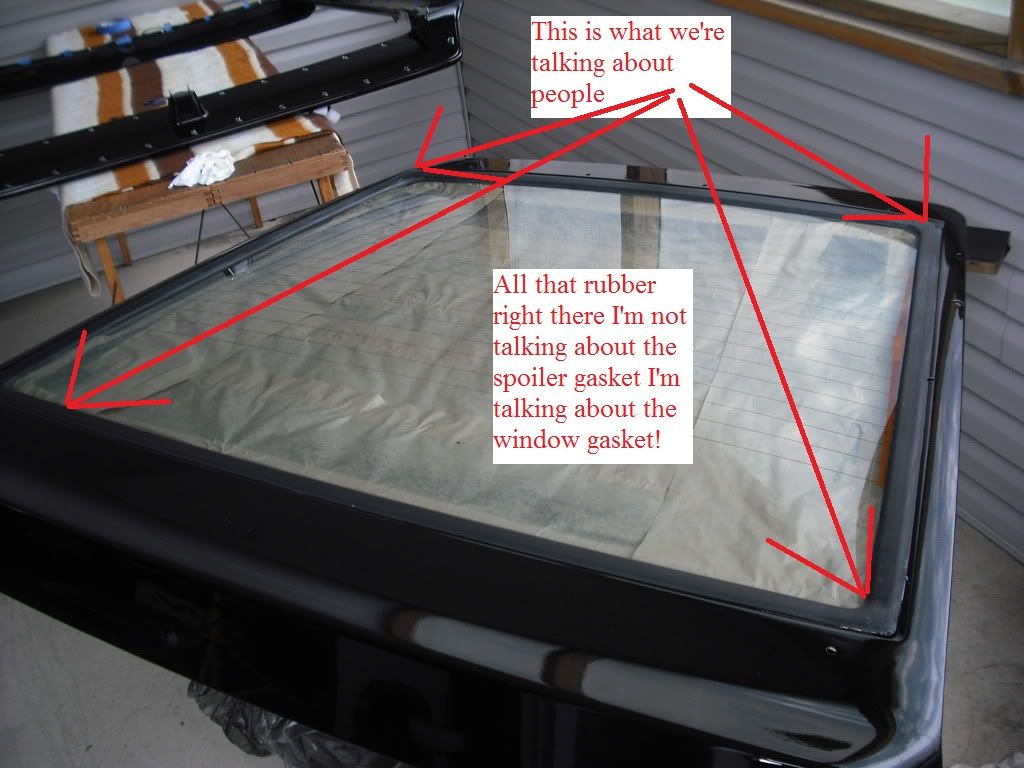 I have some very rough pricing but there is still some logistics that need to be firgured out: shipping, import fees, packaging etc. I need to figure out if this is a worthwhile venture so as always I'm here to ask you the community if you are interested.
This is a SERIOUS gauging interest thread, I know I've said it in the past but REALLY mean it this time: if I see you vote and you don't participate I'll figure out a way to hurt you...BAD. You >:buttkick: < Me. By voting and not participating you're really wasting everyones time: mine, the manufacturer's, those replying to the thread etc. I know I'm asking a lot but please remember this is meant to gauge if you will PAY money for this and not simply want it added to a catalog to look at. Now that I've killed that point to death some details.
I have received a rough quote, which means the next step is to produce the mold, produce the prototype and ship it to me for test fitting...which ideally means shipping to Seamus for test fitting as he's the most anal SOB with this stuff and has been my "go to guy" for this stuff lately. Once Seamus is happy with the prototype I'm 100% sure EVERYONE will be happy with the prototype...the next step is production which takes about 4 to 6 weeks to produce and get in my hands.
In order to see if this is feasible for me I need to know what people would be willing to pay...NOT so I can determine my max profit on this product but to figure out if it's even doable. Let me explain a little further, from my rough calculations I don't think I can do this for less than $160. Now if only 40 people chine in and are only willing to pay $160 this project will more than likely stop dead in it's tracks because that means I'm fronting a LOT of money. However, if 30 people chime in that are willing to pay $220 then it's a lot more viable. If this goes through I plan on purchasing enough units to stock too so this WILL be available after but expect pricing to go up 15-25% after the initial run.
You ALL know that I will do whatever it takes to keep the costs down, but not at the expense of future projects. I have spent the greater part of 2012 and early 2013 trying to develop new products and reproduce discontinued product for the MK2...believe me that is not cheap to do and that is where ALL my company's profits go. So this is it guys, I really think we can get a lot done with this company IF we are happy with their quality. Believe me I've check and received quotes from many company's in North America and some of these parts are just waaaay too expensive to reproduce here for our tiny market.
So...please vote and if possible when you do please also copy paste the below and post up how many you'd want as I know that some expressed interest in multiple units. Before voting PLEASE note that just because you vote that you are willing to pay $200+ that doesn't mean that is what the pricing will be. The vote is simply there to determine the max you would pay IF we had to charge that max...if I could sell for $160 AND make what I need off them it's only to everyone's benefit that I charge that. Personally for me, if someone else was reproducing these and it was my ONLY way of getting them I would pay what I had to as I plan on keeping my MK2 forever and don't' need to constantly worry about water getting in where it's not suppose to.
Depending on where you are in the world this product went from just over $100 to well over $200 from Toyota, sometimes its very easy to compete with Toyota pricing. Sometimes when you building dozens and not thousands it's virtually impossible.
Product Interest
George - 3 units