Very quickly realized I'm not going to find a mint original stereo, that still functions normally. Even if it's been on a shelf for 20 years and looks perfect, odds are it's just not going to work right, AND . . .. without a CD player, the want for original is quickly diminished.
Well, I know there isn't a HUGE call for this, and many are well beyond this and into other things, but if there's a few people out there who feel the same way I do about wanting an OEM look, and longing to upgrade to CD WITHOUT going for the silvery, lit-up-like-the-vegas-strip kinda head unit, it's a tight fit but inexpensive and worth the effort.
The pics below show a single piece, double DIN Toyota CD/Cassette unit from a 01 Camry, but they came in many different models. They also come in both internal, and external amp versions. The right buy at the right time, this one cost me $21 on eBay, WITH amp.
The newer units (87-ish and up) use a 2 plug, 10 pin 6 pin setup, (both internal and externally amplified) instead of our 9 pin 5 pin setup. This is easily converted using 2 small harnesses, (Google for info) Scosche TA02RB ('reverse' harness for 87-up) and TAO1B (for 82-86), color coded, joined together to create the 'adapter' that now makes it a clean plug-n-play. Both can be had for under $10 each, but I think the 82-86 is getting harder to find. I used heat-shrink tubing and solder for a clean install.
TIP 1: You may be better off going for the internally amplified unit, (if the depth is the same, usually 6 1/2" on these units, CONFIRM DEPTH B4 PURCHASE, 6 1/2" MAX, less is better) as I discovered that finding space for the amp, even as small as it is, is difficult if allowing for the need for heat dissapation. Internally amplified units have the 10-6 plugs directly on the back of the stereo, externally amplified units have a single multi pin plug for the amp, and the 10-6 plugs are on the amp. (and the newer units have an additional plug for AUX units like CD changers, MP3 players etc.)
TIP 2: You can only use standard double DIN units, there are many styles. In recent years manufacturers have moved away from standard double DIN units and are designing the faces oversized, and to fit the particular car. Look closely, the face should not be any bigger than the 'box' itself.
There are 6 disc versions of the same, AND the older style 2 piece stereos.
(UPDATE 4-9-09:
I have verified with 2 different sources that the 6-disc of this newer style is 1/2" deeper. This makes it too deep for this type of install. It would stick right out through the surround.) I was originally going for the older 2 pc, with 6-disc, as the depth front to back was a little less, and cured the only issue in this install. The new unit needs to actually come through the opening of the surround a tiny bit, rather than the surround resting against the face of the stereo, like the original. The surround has tiny 'lips', or edges running vertically on the sides of the opening, and these need to be carefully shaved off flat for the new unit to come through. You don't even see a difference. As with everything, it's subjective, and a matter of personal tastes. Have a '.pdf' file of the two different wiring setups/colors. Gladly field any P.M's with questions/facts.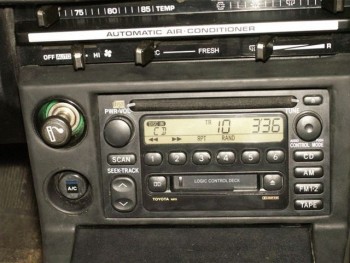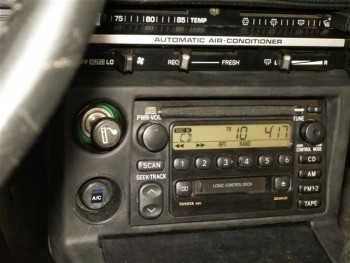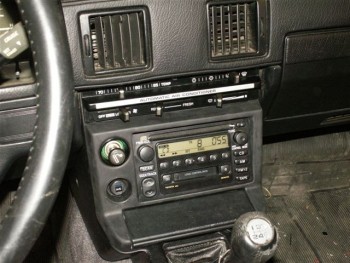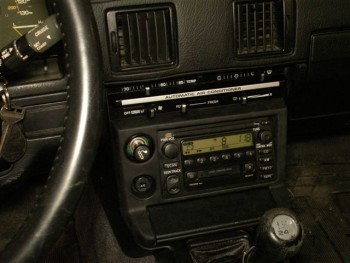 In keeping it short, if like me, you desire non butchered wiring and a stock look, it's just going to take some patient eBaying, a Saturday morning, some easy wiring and a phillips screwdriver.
3-30-09 ADDITIONAL INFO:
Concerning the Supras stock 'Subwoofer' and it's wiring, obviously it was a unique item to the era, the original stereos had wiring outputs for the sub, it is the BLUE plug of the 3 plug harness. Any newer OEM system is not going to be set up with an output for the sub, so because of it's location under the glovebox, I used a spare blue plug/wires and tapped into the RIGHT-FRONT speaker output on the new harness setup. You should use a proper inline 'filter' to limit the frequency going to the sub, so that it is just low-end signal.
5-16-09 IMPORTANT ADDITIONAL INFO:
See page 7 of this thread for instructions on adding the ability for your new stereo's lights to be dimmable like the rest of your dash lights.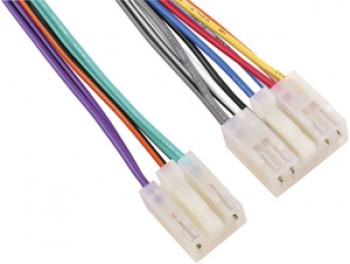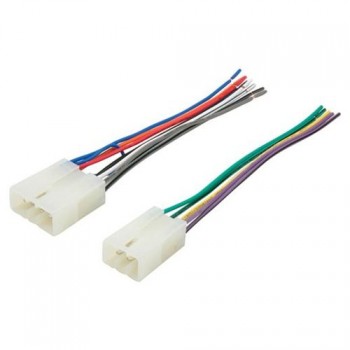 Finished harness: (but still w/o dimmer mod wire seen on pg. 7)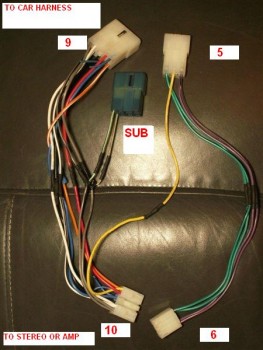 :salute::salute::salute::salute: