It took me a little bit longer to set this up than I hoped but it's been a crazy summer. We are finally ready to see if the MK2 Community wants this vented hood we've been talking about for years. Thanks to Don L who has done all the hard work, this wouldn't be possible without Don and Dave S for doing all the test fitting.
Unfortunately I hate to report that pricing for all products has gone up since we last chatted about this. This isn't me, this is straight from Advan Carbon so unfortunately with my pricing going up so does yours...ideally it's only 10% and shouldn't scare anyone who was serious about this product.
Here is what are shooting for the product to look like(thanks T for the design):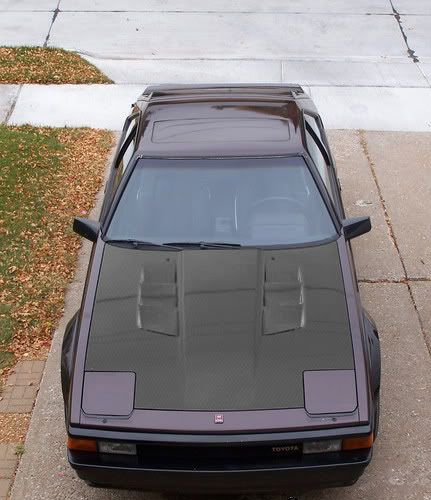 Here is a production version of the MK3 model, the MK2 version will not have the small vents up near the top and the vents will be more angular:
All other details on these hoods can be seen in these thread:
http://www.celicasupra.com/forums/showthread.php?69410-Don-s-Carbon-Fiber-Hood-Ordering-Info
http://www.celicasupra.com/forums/showthread.php?69119-CLOSED-CF-Hood-Test-Fitting-and-Supra-Meet-in-S-Calif
http://www.celicasupra.com/forums/showthread.php?68252-CLOSED-Carbon-Fiber-Hood-Survey-Yes-Again
!
That being said here's all the info you'll need to get in on this:
PRICING
OEM Carbon Fiber Hood if I sell 10 OEM Hoods: $602
OEM Carbon Fiber Hood if I sell 20 OEM Hoods: $541
Top Secret Style Hoods regardless of Units Sold: $770 - for this to even be possible we need 10 Sold
All pricing is Plus shipping, that is still being worked out but bank on:
Continental US Customers: $160
Alaska, Hawaii, Canada: $290
International: Please Contact me
PAYMENT TERMS
50% Now, the other 50% + shipping due just prior to shipping. For example, if you want a Top Secret Style Hood you will need to send: $385. For those ordering OEM hoods you'll need to send $301, if we end up selling 20 your second payment will reflect the discounted price.
Paypal Address:
[email protected]
...please note it MUST be in US Dollars
If you can't pay by paypal or if there are Canadians who would like to pay via other methods: (cheque, emt etc) please contact me.
If there 2+ people in one location there might be a possiblity for discounted shipping rates.
TIMELINE
It will take approximately 2 months from the time the group buy ends till they will be shipped out. Please note that's an approximate date, it could be faster or slower. Dave S. will be helping out with this to ensure it's up to our standards so if any changes need to be made quality and design will always come before a fast shipping date.
Group Buy Deadline is OCTOBER 31, 2013 ...I'm just like all of you and like to hang onto my money as long as possible. Please note though that on October 20th I have to give Advan the green light, if I don't they will have to re-quote which means another potential increase. IF you are 100% serious and IF you have the funds it would make things a LOT easier if you sent them before the 20th. I'd make that the deadline but I want to give folks as much time as possible to collect the necessary funds for this.
We have already sent Advan a hood to ensure we can get this done, but IF for ANY reason we run into complications and can't funds will be IMMEDIATELY refunded. I don't see this happening but want peoples minds to be at ease if the impossible happens.
REQUIRED INFORMATION
Your Payment MUST include:
1. Full Name and Forum Name:
2. Full Mailing Address (NO PO Boxes):
3. Phone Number
I keep requesting this for group buys and people fail to read this which causes more work for me as I have to run around for the info. If your payment does not include this information your payment will be refunded ASAP. If you do get a refund check to ensure you have given me all the above info.
QUESTIONS
Please do NOT PM or Facebook message me unless you want a delayed response to your questiohn...all questions should go to:
[email protected]
and it would help if you put "MK2 CF Hood Group Buy" or something equivalent in the title.
OEM Hood Group Buy Participants
1. Dean L. (Deanfun) - Paid
2. Wiliam O. (Tonto) - Paid - email sent
3. Jesse B. (MrBubbles) - Paid - email sent
4. Michael F - Paid - email sent
Top Secret Hood Group Buy Participants
1. George T. (Raptor Racing) - Paid
2. Raj S.(Rsdeo) - Paid
3. Dan D.(supraholic) - Paid
4. James M. (infamos) - Paid - email sent
5. Guido - Sold to Michael F
6. Leon (Lee MA61) - $575
7. Dustin F(8055M4n) - $575
8. Chadrick L(CLToy) - Paid - email sent
9. Karl S (kdsii) - Paid - - email sent
10. Tom L. (Atl Racer) - Paid email sent
11. Mike R(85soops) - Paid email sent
12. Dennis P(pogipogi) - Paid - - email sent
13. Joshua C (JAC) - Paid email sent
14. Patrick B (toy1983) - Paid
15. Kit P (eithysixxmkII) - Paid email sent
16. Keme K(mkii_noob) -Paid
17. Will M(Supra_toy) - Paid email sent
18. Chris S(Blaze) - $575
19. Jesus U - Paid email sent