It has taken a while to get this done but we are finally ready to get this built if people really want it. Unlike the fender flare trim this product will only be produced if there is interest in it. I need to sell a minimum of 30 units before I can give the production a green light.
That being said let me tell you a little bit about what's included, and even before I do that I just want to officially thanks Seamus - Suprafiend. You guys would be shocked to know how many hours he put into this project, it would NOT be possible without his insight, support and feedback. Due to costs we had to redesign the gasket that sit in between the spoiler and the hatch. Toyota's gaskets are formed/molded gaskets. We could have EASILY duplicated them but the tooling costs alone for those 3 would have been over $3000...meaning this kit would have been in the $200+ range. Seamus was sent some samples of flat stock of rubber in different thickness's where he meticulously tried different combinations to ensure a proper seal and look. He has made some improvements over the factory design while trying VERY hard to provide a factory OEM look and better than OEM seal and protection. Thanks again Seamus!!!
What's Included
PartA: 4 x Seals for that protect the body from the same holes as where the pre 85 Wing Bolts to
PartB: 1 x Trim that is used on the inside of the hatch wing
PartC: 1 x Trm that is used on the outside of the hatch wing
PartD: 2 x Seals for each corner of the wing that rests on the hatch
PartE: 1 x Seal for the centre support for the wing
Sorry but this is the only picture I have to show you what's included: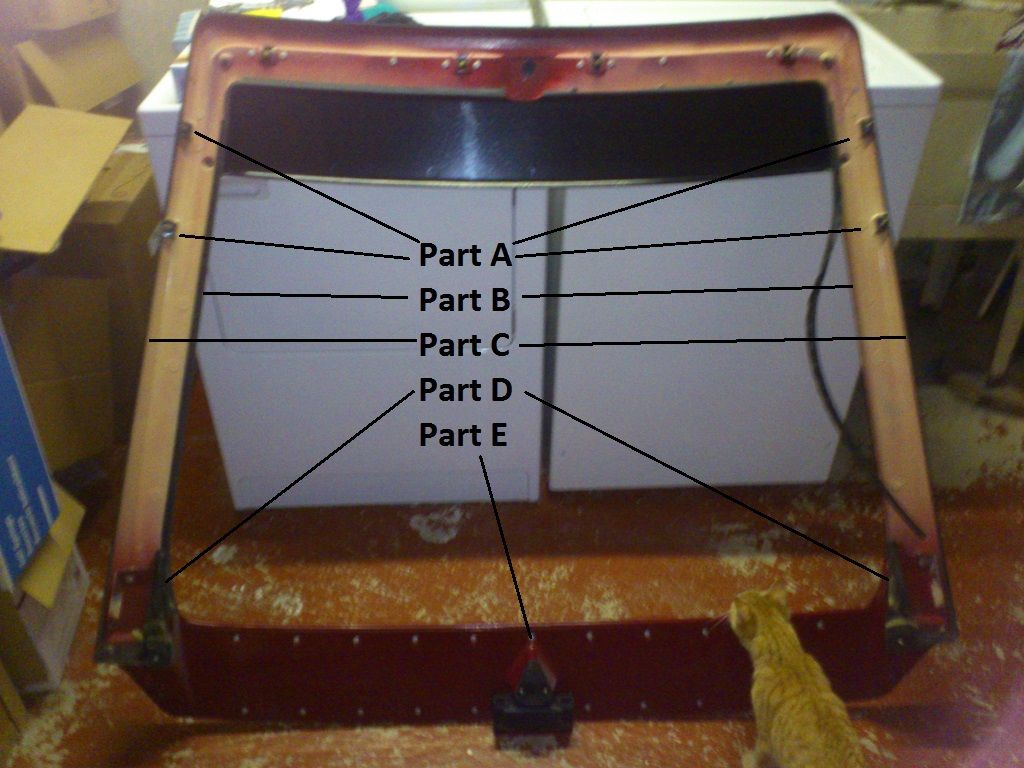 **THINGS TO NOTE**
1. The OEM Toyota Trim comes in 4 pieces, 2 for the inner trim and 2 for the outer trim. This kit will come with enough plus a little extra to do the whole hatch and it's up to you to simply cut it in half.
2. The OEM Toyota Trim on the Inside of the hatch comes notched to help the trim go around the bends. It will be up to the customer to gently trim this section with a sharp utility knife. The cost to make a 100% duplicate of the factory trim would make this project unfeasible for everyone
Production Time
From the time I give production the green light it will take 4 to 6 weeks to produce the trim, about another week to get it to me and then a few days to package them all up. These are all 100% made in Canada with Canadian material, where possible we are REALLY trying to use local suppliers. This company is close to a few members so it's easy for someone to drive over in case they want to see a car and get some ideas.
The group buy will stay open until the End of May, depending on how sales and feedback go I may chose to extend it but IF I get the 30 before the end of May I will start production and just keep the group buy open.
Costs
If you bought this from Toyota it would have cost you anywhere from $51 to $75 + shipping (MUCH more if you live outside the USA), and that doesn't include the 4 seals (Part A above). Suffice it to say I'm not Toyota, I don't have their buying power or production facilities so will not even try to compete with their pricing. Please do keep in mind that these parts are no longer available unless you're lucky enough to find someone with New Old Stock.
I will NOT be able to sell these parts separately, the logistics of it would be just too insane now. I will entertain in after the group buy but the pricing will be MUCH higher per part. You basically get everything , it's an all or nothing type of thing here.
I know that a lot of people in this community who might have interest live near others; so I will include a muti-kit discounts for those that want to combine shipping or even for those that have a couple of 85+'s and want spares.
1 Kit: $85 Shipped
2 Kits: $160 Shipped: $80 each
3 Kits: $225 Shipped: $75 each
At this point in time I have NO idea what pricing will be like after the group buy, I will have to wait and see how well the group buy goes. All I can say is that this group buy price is the lowest I can possibly sell these parts so it will not go down.
Payment Terms
Must Pay in Full via:
1. Paypal to:
[email protected]
2. No Paypal? I can send you an invoice where you can pay with most Credit/Debit Cards
3. Check - MUST pay full Amount
Canadian Customers
All Canadian customers
MUST
pay in Canadian Dollars. ALL*Canadians also must pay GST or HST, if you don't know your provinces tax rate please let me know and I'll tell you.*
Payment Method (in order of preference for Canadians):
1. Email Money Transfer (most all major Canadian Banks Have this) to:
[email protected]
2. Paypal +3% in CND Currency to*
[email protected]
3. Cheque
International Customers
Please email me...do NOT pm me please!! We can discuss payment and shipping terms.
Require Information with Your Payment
Your Payment MUST include:
1. Full Name and Forum Name:
2. Full Mailing Address (NO PO Boxes):
3. Phone Number
If you're paying via paypal you can add this in your payment. PLEASE try to avoid using paypal mobil app as it neglects to include the address which forces me to follow up with you. If you're paying via Email Money Transfer or Cheque please make sure to send me a follow up email.
Group Buy Participants
1. John G.
2. Mike M.
3. Dan B
4. Morgan S.
5. Dean L.
6. Rob H.
7-8. Ryan S.
9. Dan D
10-11. Royce I.
12. Tim M.
13. Tyco H.
14. Michael F.
15. Dustin F
16. Jason C.
17. Tony P.
18. Jason O.
19. Richard E.
20. Alex E.
21. Billy M.
22. Edgar J.
23. David A.
24-25. Michael A.
26-29. CJ
30. Carlos R.
31-32. Toan R.
33-34. Joshua C.
35-36. Scott H.
37. Mitchel K.
38-39 William B.
40. Kyle B.