7M TPS Connector to Q45 TPS wiring Instructions
Ok all, I ws asked to do a Writeup on how to correctly wire the Huge Q45 Throttle Body TPS to a 7MGTE harness and setup the Q45 so that drivability will feel just like Stock.
Here are the things that you need.
Q45 Throttle Body with connectors
Good 7MGTE Wiring harness
5 Pieces of atleast 2 feet of small wiring 14-16 gauge
soldering gun
shrink rap
volt meter, MAFT Pro or SAFC will work also
7mm socket and ratchet
Short phillips Screw driver
Wire cutters and strippers
OK, First of all this is a pretty simple process but you do need Patience. Why would you want to run a Q45 Throttle body? First and Biggest to me is the Throttle response is tremendously better.
So first, you need to know what the Pins are on the Q45 TPS. On the Q45 TPS itself, you will only use 2 of the 3 pins. (IDL..green wire and E2.. black wire), if you notice that there is a Small connector coming from the top of the TPS, You all use all 3 of these wires.
1. Cut the Connector off so that you can get to the red, black and white wire easily. Strip the wire so you can run the wire from your engine harness TPS connector to the Q45 TPS Connector.
2. Cut the Engine harness TPS off so you are able to Strip those wires also. I recommend that you get you TSRM so you know that the Wiring colors are. Im going to tell you the Wire Signal.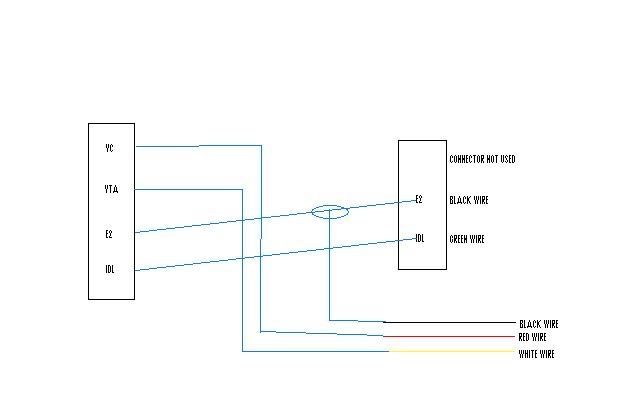 1. VC from Stock harness.............. Red Wire on small harness from TPS
2. VTA from stock harness............ White wire on Small harness from TPS
3. E2 from stock harness.............. E2 pin on TPS (Black wire), Make a Splice and run a wire to the Black wire on the TPS Small Harness
4. IDL from Stock Harness............. IDL pin on TPS (Green Wire)
Connect, Solder and Shrink rap. Pretty easy to wire up but take your time and use the Diagram above. you wont go wrong if you do it this way.
Also In pic 2, there are 2 small vaccuum lines that you will have to cap off Prior to starting your car. Also, you will see that there are 2 water lines, I still have my ISC Valve so I ran one line from the ISC Top Water port to the line on the TPS Side, From the throttle linkage side, I ran a hose from there to the Water line that goes around the back of the block in front of the Starter.
Now........
Once you start your car, you are going to get a very high Idle and It will drop a little but it would only drop to about 1500 or so. This is what you need to do to fix that. The Q45 has what they call a High Idle Advance mechanism that you need to Disable. So look at your throttle body, you will see at the throttle linkage that there is a Huge spring mechanism. You need to take your phillips Screw driver, remove the 2 screws and remove the entire spring mechanism. Your throttle body should look like this after you have removed the Spring mechanism.... once this is removed, your Idle will drop and you will be able to adjust things to your RPM preference.
Now, Last but not least, You MUST adjust the TPS so you are getting the correct voltage and your ECU is happy. Now, With your car running, Take your 7mm Socket, Break the TPS Screws so you can turn it. This step is pretty easy if you have someone monitoring you TPS voltage VIA MAFT Pro or SAFC or voltage monitoring device. Once your car has settled down to where you are happy with the Idle, Slowly Tap your TPS until your Voltage is reading .385v to .4v, Once its within these ranges, Tighten your screws and leave it.
YOUR FINISHED.... Go out, take a drive and enjoy the improvements of a Q45 Throttle body.
If you have any Questions, Post them up and I will answer them. Hope that this helps.
Robert