Return of the 5MGE-T+ (7mgte Rebuild)
Hello everyone! It's been a longtime since I've posted on here. Been a crazy trip. Long story short - graduated from the U, bought a new house, landed several IT occupations, started a pilot's/real estate license, adventured the world, took on business/investment adventures, and lost sight & neglected the Supra =1
Backstory
The last time I drove the Supra was in 2012. I installed a new Walbro fuel pump and was cruising around I-405 when suddenly the engine stalled. With my busy work schedule, I couldn't afford to not have a running daily driver. So I had the vehicle towed to my dad's house and I ended up borrowing one of his trucks. Until yesterday - as you'll read below - it sat for several years.
Ride Line-up
In the mean time, I've taken over and sold other rides - including a 2009 Subaru WRX, a 2005 Infiniti G35 (my present daily) and a number of Hondas/Acuras.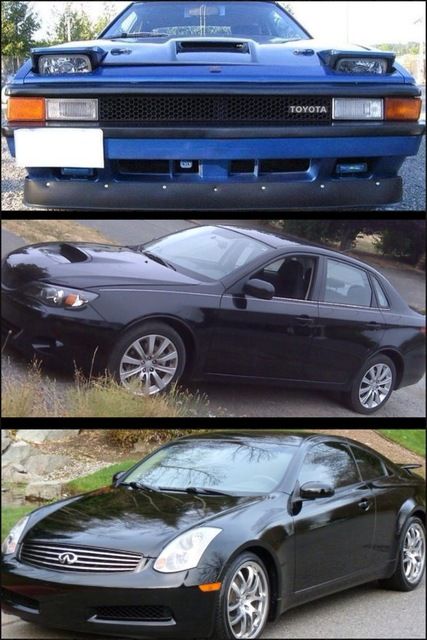 2015
Back in January a Craigslist ad for a complete 7mgte w/ "less than 90k miles" caught my attention. I had been debating the 7MGTE or 1JZGTE route for a [long] while now and had even put together a Need-to-Buy-List for both swaps. However, after checking out the engine and getting a good deal for it for $600 w/ miscellaneous components (minus my 7MGTE Needs List below) my choice was made. I quickly ran over to Harbor Freight; bought an engine hoist and stand; and with the help of one of my buddies, had the engine picked up and hoisted onto an engine stand w/in my garage. . .where it sat for several months -_-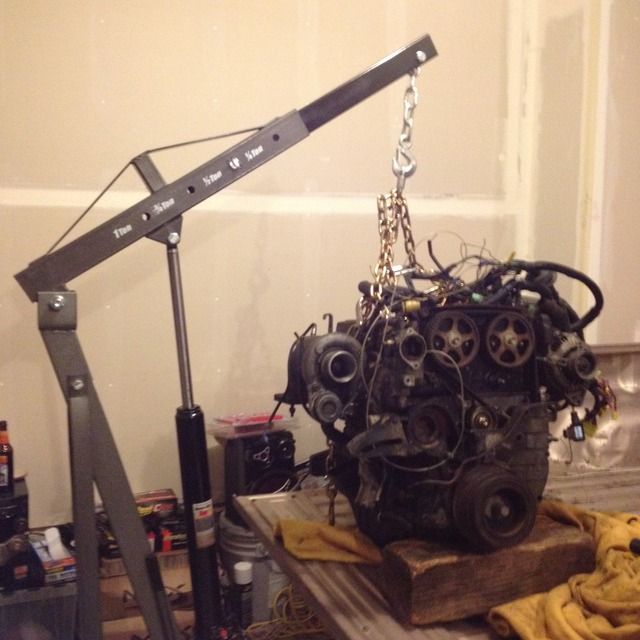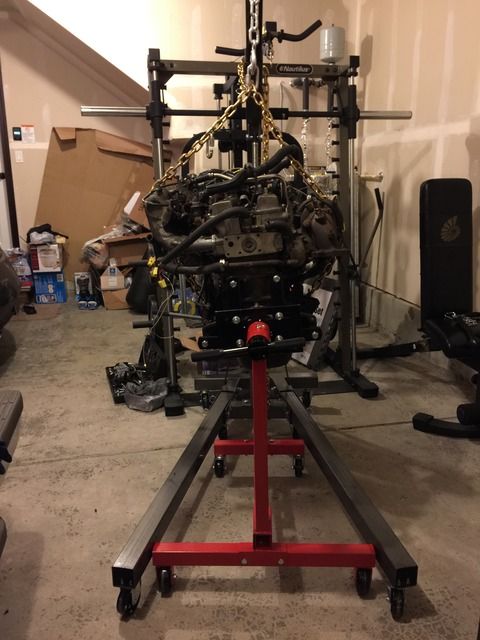 I blame a trip to the Philippines, bachelor parties, working 2 office jobs / pursuing the pilot's and real estate licenses, family events (for those that know me, know I have a lot of family) and lastly, acclimating to the loss of my grandparents, who I had lived with and had raised me for over 23 years.
Present Time
Car Tow
So finally, to save from further excuses, yesterday I found time to AAA the Supra from my parent's house...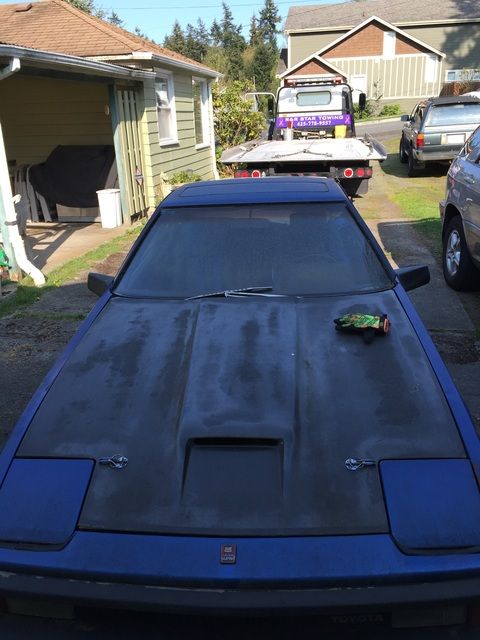 and into my garage.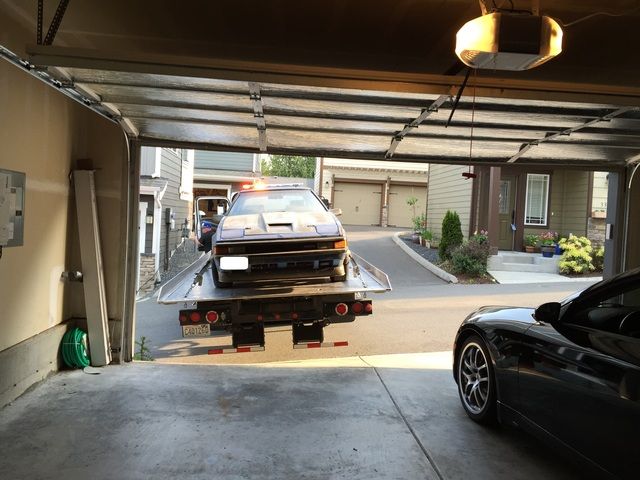 Even without Costo shelves to be installed, it's getting kind of cramped in here.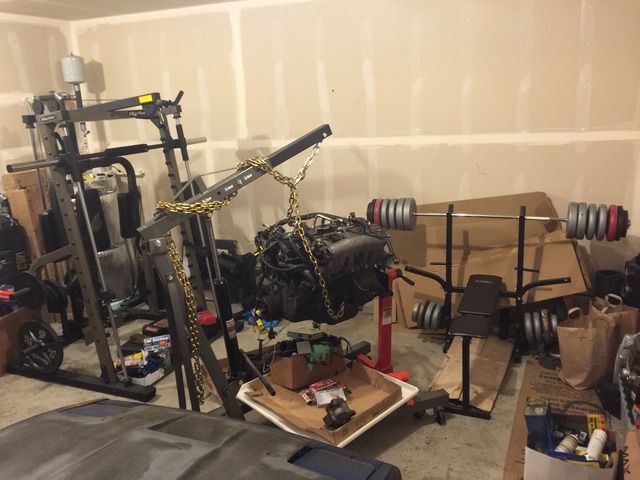 (Definitely utilizing my LA Fitness membership for a while)
Yet, it's manageable.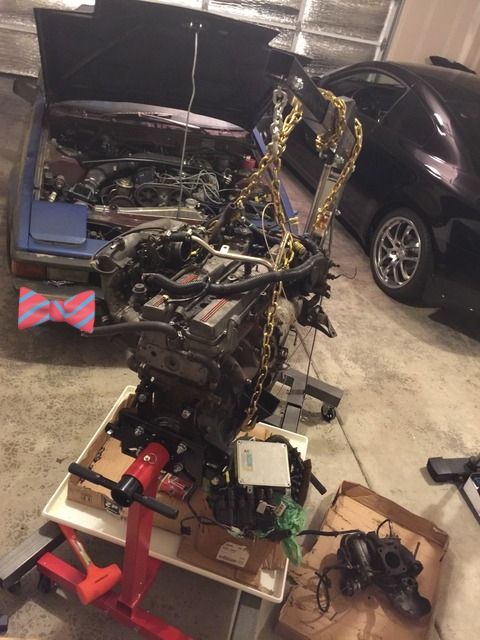 Engine Tear Down
With the Supra in the garage, I caught a 2nd wind and started tearing down the engine to view the damages.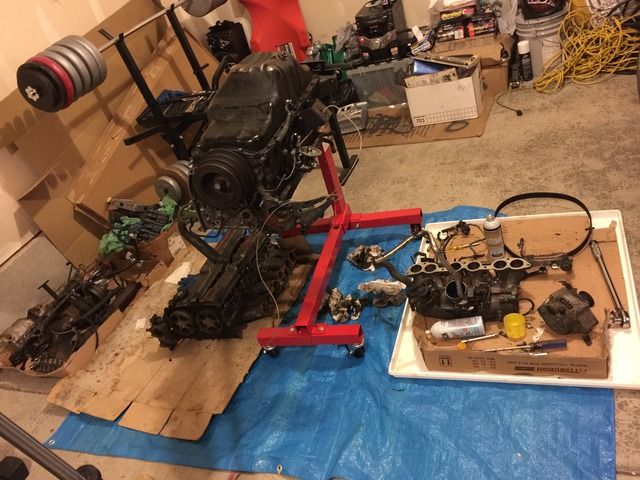 Didn't find any major issues. Even the camshaft guides looked good w/ no scratches. Only concern I have so far are the plastic and rubber components - which will be replaced or renewed - and the pistons. Based on the super dark and burnt piston heads, I'm sure the piston rings are fried. So those, along with any other rings or gaskets, will certainly be replaced.
Parts Needed
So this is where I may need some help. After assessing what I currently have (including what's currently on the vehicle and in my box of miscellaneous stuff) and with the intention of having a reliable/upgradable 7MGTE, I'll need the following parts -
Engine Mechanical
Headgasket set (w/ 1.2 HKS MHG)
ARP head stud kit
89-92 oil pump & pan
Power steering & alternator belts (eliminating the AC)
Air Intake
Intercooler + piping
Lexus AFM
Cooling
Lower and upper radiator house
Thermostat
Water pump
Ignition
Exhaust
Turbo downpipe
3" straight pipe
Electrical/speedo
5MGE to 7MGTE wiring harness
MSD tach adapter.P/N 8920
Are these Required/Should I get these?
550cc fuel injectors
Turbo manifold
Oil filter relocation kit
Charcoal/carbon canister
I've sourced for a majority of these items via Rockauto.com, eBay and other online websites. However, I'm sure others in this Awesome and Supporting community - specifically those in the Northwest =D - have other sources they'd like to recommend. So please say hello and chime in with any help.
Thanks Everyone,
- Edward