Late last year, I was told that I was going on another deployment to NZ and Antarctica. This was to be my second deployment down to the ice. Since I made good money the first time (in excess of 2 grand for 2 weeks), I decided to throw everything I made at the Supra this time. That meant BIG plans. The list I worked on for several weeks before and after the trip was pretty extensive. Here's the list of what I purchased for the build.
* 6MGE Engine
* Radiator
* new hoses
* new coolant temp sensor
* Royal Purple fluids
* New cap
* New rotor
* All new spark plugs
* new Timing belt
* new fuel filter
* HID Headlight conversion kit
* Front end performance bushing kit
* Transmission rebuild kit
* Antenna
* New fuel filter
* 200 amp Alternator
* Rear wheel bearings
* Whiteline 27MM adjustable front end sway bar
* New 3rd brake light(s)
* new 20mm hub-centric wheel spacers
* new LED hood squirter lights
* 100 watt replacement bulbs for fog lights
* red wire looms
* Brand new set of shoes (tires)
Front – BFGoodrich Radial T/A 235/60R14
Rear – BFGoodrich Radial T/A 245/60R14
November 2011 came, and I left for my military deployment. Good times, hard work, and an experience of a lifetime. I was gone for over 3 weeks to Christchurch, New Zealand, in support of Operation Deep Freeze. Made it to Antarctica two more times, for a grand total of 4 trips to "the Ice". I saved my money, and just like I planned, started buying parts like a mad man when the checks started rolling in.
First, and most important on the list was the 6MGE engine. I researched and plotted and searched and scoured. Found an engine back east for 1600 (shipped) to my driveway. I made the purchase and within 3 days, that engine was sitting on a pallet in my driveway! Amazing.
(NEW ENGINE)
With my newly acquired 6M, I wanted to do naughty things to it. Drained the oil and took note of the condition. JET BLACK. If this is a 60K mile engine as stated, I doubt the oil had ever been changed. It was as black as outer space. I stripped off the intake and cleaned it all up. I want everything to be as new as possible. The timing cover came off and was cleaned up. Painted the "DOHC" on the front a brilliant red (just for fun). Replaced the timing belt, as I don't know how old it is, or how long it's been sitting. Better safe than sorry. Injectors were pulled and cleaned. New spark plugs, cap, rotor, and thermostat.
(EBU)
Old engine pulled
During the engine removal, we had an interruption by the cops. My daughter was playing with Dirick's RC car. She was racing it up and down the street. Eventually, she took it too far, and it ran into an intersection – right in front of a cop. He had to hit the brakes before running over the little car. Alyssa whipped the car around and it flew back up the street past our driveway. A moment later, the cop pulls up in front of my driveway. He steps out, and I'm thinking he's going to chew me out for working so early in the morning, or having my music too loud in the garage.
Nope. He asks if we're the owners of the RC car that he almost flattened! We all bust out laughing and I call my daughter over to face the music. Needless to say, she was embarrassed.
Back to work!
and oil pan removed. Oil pickup removed. That's when the horrifying truth was revealed… The 5MGE engine was about dead. Shiny metal shavings coated the bottom of the oil pan. I was surprised the engine was even still RUNNING. I suppose, it's a testimate to the strength and durability of Japanese motors. Hope I get a good 200K out of the 6MGE engine.
(BAD ENGINE)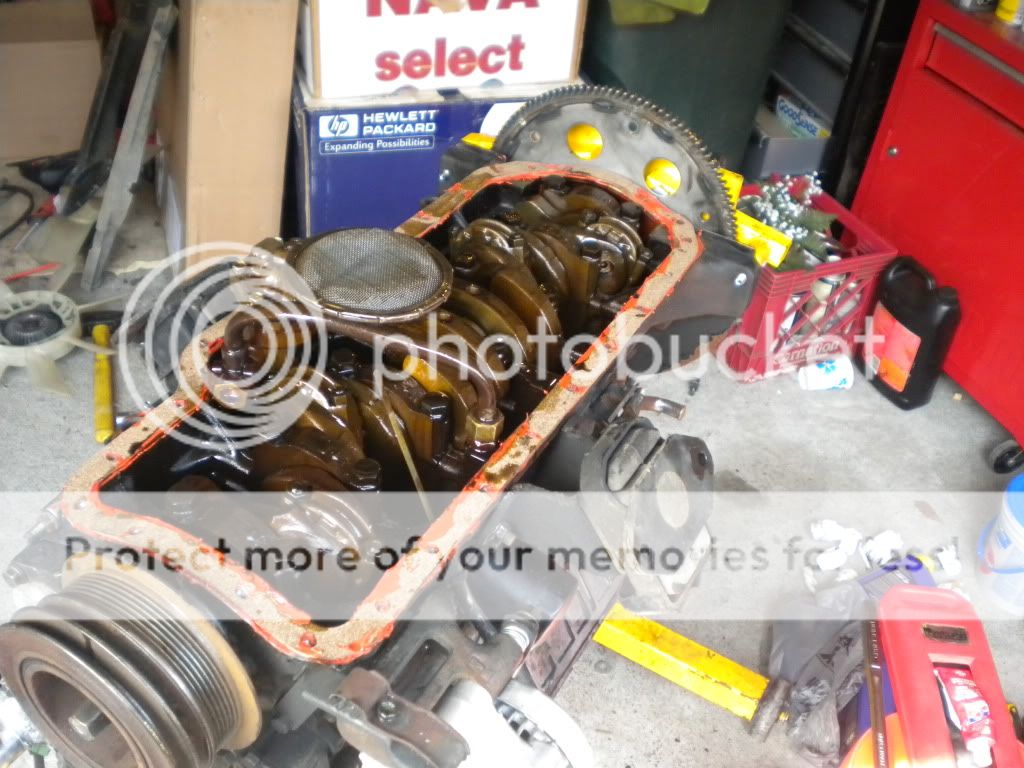 Once everything was cleaned up and swapped, it was time to put the 6MGE engine in the car. Everyone had their hands in the cookie jar for this one, and no issues with getting it in the engine bay.
(THE ENGINE INSTL)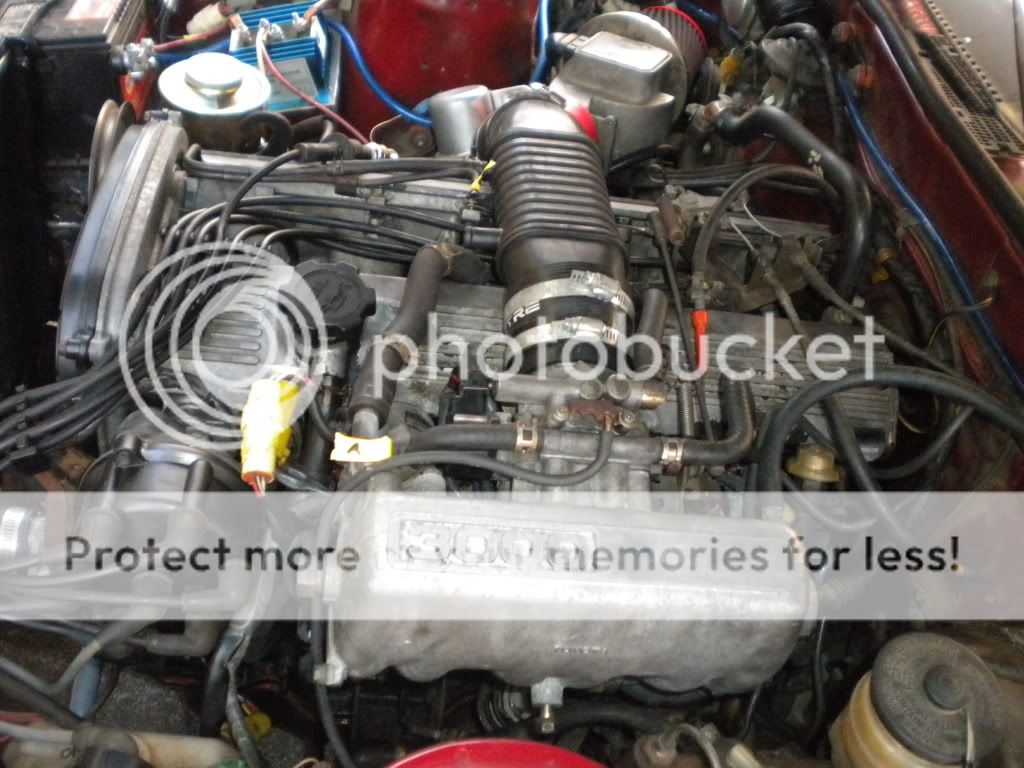 While the front end was up off the ground, I changed out the front sway bar with something MUCH beefier.
(SWAY BAR)
And, now....... engine installation:
Brand new HID headlights. HID low beams, and Halogen high beams. It's a plug and play system. Hook up the ballast, plug in the light, install the lens, turn it on and go.
(HID)
I really love the 3rd brake light of the rare 86 Supra. Unfortunately, they're hard to come by, so I had to come up with my own. I found some really bright, red, LED lights for a 12 volt system. Wiring them up to brake lights is easy as pie. Found the perfect place to mount them, too. Since they shine directly down on the rear window, the light reflects back to those traveling behind me. I like the setup and have already had much praise for it.
(3RD BRAKE LIGHT)
Final project was the rear wheel spacers. I picked up a 20MM set of spacers to kick the tires out to a more respectable stance in the back.
The before stance…
After…
All in all....... between myself, Dad, Dave, Dirick, Cameron, and Bryce, we probably put in over 100 hours worth of labor into this project.
The payoff?