The Ultimate MkI Aero Mods Thread
This Thread covers the following types of Aerodynamic and styling accessories for the MkI Supra.
The categories are:
Air Dams
Rear Spoilers
Body Kits (or the lack thereof)
Louvers and such
Headlight Covers
Other External Styling Items
And I've reserved a post to add categories and stuff I'm sure I've forgotten.
I bought my first MkI Supra (a 1979) in August of 1982. I was a teenager and very interested in performance upgrades for the car - both aerodynamic and hp - but a decision to go to college put most major purchases on hold. I bought an aftermarket airdam in April of 1984 (after owning the car for a little more than 1-1/2 years). I also put headers on it during the same time frame. I never bought a rear spoiler back in the day - something I regretted until very recently when I found a Kamei one which will be going on my MkI soon. I spent a lot of time in the aftermarket catalogs in the mid 80s - I looked at catalogs of everything that was available back then (the local Toyota parts guy knew me by name).
I've been collecting parts, photos, catalogs and other things. This thread is a compilation of that material - and is intended to be a complete (well, more or less) listing of all of the Aero mods that are/were available for the MkI Supra. I will also be putting what information I have about current availability of any of the items.
I picked this catalog up when I visited TRD in Los Angeles in July of 1983 (and I still have it
)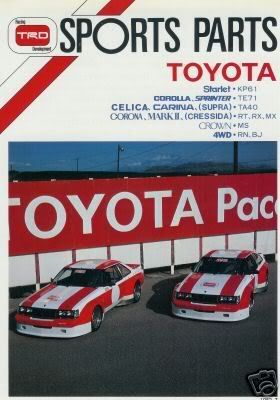 Please feel free to add information to this post - if you have a better example of item (photo, drawing or other illustration) or good information about an item, I'll move it to the first group of posts. And, please let me know of anything you come across that isn't listed - I'll add it as well.