Discussion Starter
·
#1
·
So I performed the 6m swap earlier in the year on my 82 supra and have been having vaccuum issues ever since. When I'd turn on the A.C., the engine rpms would drop drastically rather than go up slightly. When I start the car, it always runs about 300 rpms to low until it's completely warm. I've tried swapping the lines around and now I've got the Vaccuum advance screwed up and I can't get my timing to go below 15* (EGR doesn't work and isn't connected either, I've blocked it off. I have no leaks, just need to see someone's setup so I can fix my own. I just need a few pictures. Mines an 82 with vac. adv. so later years are going to be a little different. Thanks.
I need to know what lines go to this (forgive me for sounding dumb and not konwing my terminology) and where those lines come from.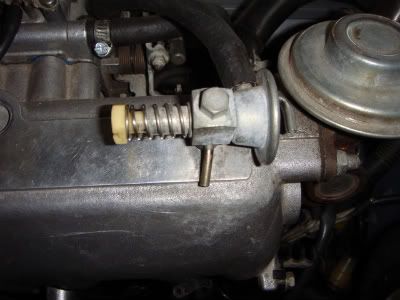 I need to know what lines go to this vac adv unit and where they go.
This picture will help you get an idea of where the next spot is.
I need to know what lines are involved here (directly below the last pic.) bottom of intake manifold.
Thanks for your help and sorry to have you get out your cameras!